Jay Electronica has deactivated his  Twitter and Instagram accounts following his criticism of Eminem's "Killshot" diss track. Slim Shady, who dropped the song on Friday (September 14), seemingly infuriated the New Orleans-bred rapper/producer with the line about Sean "Diddy" Combs.
In one of the verses, Em alludes the Hip Hop mogul had something to do with Tupac Shakur's 1996 murder.
"Killshot, I will not fail, I'm with the Doc still/But this idiot's boss pops pills and tells him he's got skills/But Kells, the day you put out a hit's the day Diddy admits/That he put the hit out that got Pac killed, ah," Shady raps.
Like hundreds of other people, Jay Electronica jumped on Twitter to throw in his two cents.
"@eminem, how dare you accuse diddy of killing tupac while you completely look pass jimmy iovine and those who profited from his death the MOST," he wrote in a since-deleted tweet. "You best tread carefully Son, before i come tear your ivory tower down like Sulaiman done the Templar Knights. #ripProof."
Shady fans didn't take too kindly to the threat and undoubtedly came for the 41-year-old artist who then vanished from his social media platforms.
The move follows Jay Electronica's reissue of his 2010 song "Shiny Suit Theory" featuring JAY-Z and The-Dream.
Check it out on Tidal below.
Royce Da 5'9 Issues Threat After Jay Electronica Goes After Eminem
The strongest reaction to Eminem's Machine Gun Kelly "Killshot" diss came from Jay Electronica.
The album-less rapper objected to Eminem's joke line about Diddy killing 2Pac with this tweet, which he later deleted.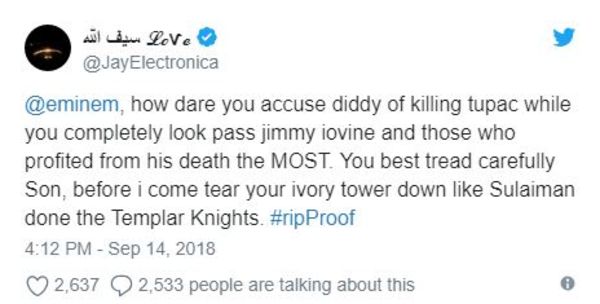 Jay may have reconsidered the Tweet after reading this from Eminem's Bad Meets Evil partner Royce Da 5'9.
Is Royce going to be the one to finally make Electronica drop some relevant music?
Cardi B & Drake Top 2018 American Music Award Nominations
Cardi B and Drake are poised to add some more awards to their trophy mantles. The rap superstars have each received eight nominations for the 2018 American Music Awards.
Their respective nominations are the most of any artists for this year's event, with Post Malone and Ed Sheeran trailing at six each. Drake is nominated for Artist of the Year while Cardi B is vying for New Artist Of The Year.
Some of the other Hip Hop and R&B artists nominated for AMAs include Beyoncé, JAY-Z, Migos, the late XXXTENTACION, Young Thug, SZA, Lil Uzi Vert and Rihanna. The Kendrick Lamar-curated Black Panther: The Album is also up for Favorite Soundtrack.
The winners will be entirely decided by the fans. Voting is open now  VoteAMAs.com, but all of the categories aren't available yet. Voting for New Artist of the Year, Favorite Social Artist and Collaboration of the Year won't begin until September 24.
The 2018 American Music Awards are scheduled to take place at the Microsoft Theater in Los Angeles on October 9. The ceremony will air at 8 p.m. ET on ABC and be hosted by actress Tracee Ellis Ross.
Check out all of the nominations below.
ARTIST OF THE YEAR
Drake
Imagine Dragons
Post Malone
Ed Sheeran
Taylor Swift
NEW ARTIST OF THE YEAR PRESENTED BY CAPITAL ONE SAVOR CARD
Camila Cabello
Cardi B
Khalid
Dua Lipa
XXXTENTACION
COLLABORATION OF THE YEAR
Camila Cabello ft. Young Thug "Havana"
Post Malone ft. 21 Savage "Rockstar"
Bruno Mars & Cardi B "Finesse"?
Bebe Rexha & Florida Georgia Line "Meant To Be"
Zedd, Maren Morris & Grey "The Middle"
TOUR OF THE YEAR
Beyoncé & JAY-Z
Bruno Mars
Ed Sheeran
Taylor Swift
U2
FAVORITE MUSIC VIDEO
Camila Cabello ft. Young Thug "Havana"
Cardi B "Bodak Yellow (Money Moves)"
Drake "God's Plan"
FAVORITE SOCIAL ARTIST
BTS
Cardi B
Ariana Grande
Demi Lovato
Shawn Mendes
FAVORITE MALE ARTIST – POP/ROCK
Drake
Post Malone
Ed Sheeran
FAVORITE FEMALE ARTIST – POP/ROCK
Camila Cabello
Cardi B
Taylor Swift
FAVORITE DUO OR GROUP – POP/ROCK
Imagine Dragons
Maroon 5
Migos
FAVORITE ALBUM – POP/ROCK
Drake "Scorpion"
Ed Sheeran "÷ (Divide)"
Taylor Swift "reputation"
FAVORITE SONG- POP/ROCK
Camila Cabello ft. Young Thug "Havana"
Drake "God's Plan"
Ed Sheeran "Perfect"
FAVORITE MALE ARTIST – COUNTRY
Kane Brown
Luke Bryan
Thomas Rhett
FAVORITE FEMALE ARTIST – COUNTRY
Kelsea Ballerini
Maren Morris
Carrie Underwood
FAVORITE DUO or GROUP – COUNTRY
Dan + Shay
Florida Georgia Line
LANCO
FAVORITE ALBUM – COUNTRY
Kane Brown "Kane Brown"
Luke Combs "This One's For You"
Thomas Rhett "Life Changes"
FAVORITE SONG – COUNTRY
Kane Brown "Heaven"
Dan + Shay "Tequila"
Bebe Rexha & Florida Georgia Line "Meant To Be"
FAVORITE ARTIST – RAP/HIP-HOP
Cardi B
Drake
Post Malone
FAVORITE ALBUM – RAP/HIP-HOP
Drake "Scorpion"
Lil Uzi Vert "Luv Is Rage 2"
Post Malone "Beerbongs & Bentleys"
FAVORITE SONG – RAP/HIP-HOP
Cardi B "Bodak Yellow (Money Moves)"
Drake "God's Plan"
Post Malone ft. 21 Savage "Rockstar"
FAVORITE MALE ARTIST – SOUL/R&B
Khalid
Bruno Mars
The Weeknd
FAVORITE FEMALE ARTIST – SOUL/R&B
Ella Mai
Rihanna
SZA
FAVORITE ALBUM – SOUL/R&B
Khalid "American Teen"
SZA "CTRL"
XXXTENTACION "17"
FAVORITE SONG – SOUL/R&B
Khalid "Young Dumb & Broke"
Ella Mai "Boo'd Up"
Bruno Mars & Cardi B "Finesse"
FAVORITE ARTIST – ALTERNATIVE ROCK
Imagine Dragons
Panic! At The Disco
Portugal. The Man
FAVORITE ARTIST – ADULT CONTEMPORARY
Shawn Mendes
P!NK
Ed Sheeran
FAVORITE ARTIST – LATIN
J Balvin
Daddy Yankee
Ozuna
FAVORITE ARTIST – CONTEMPORARY INSPIRATIONAL
Lauren Daigle
MercyMe
Zach Williams
FAVORITE ARTIST – ELECTRONIC DANCE MUSIC (EDM)
The Chainsmokers
Marshmello
Zedd
FAVORITE SOUNDTRACK
"Black Panther: The Album, Music From And Inspired By"
"The Greatest Showman"
"The Fate of the Furious: The Album"
Beats By Dre & NBA Announce Global Partnership
New York, NY – Hip Hop's trusted headphones, Beats By Dre and the National Basketball Association (NBA) have announced today (September 5) the dawn of a comprehensive marketing and merchandising partnership.
The new agreement will unequivocally make Beats the official headphone, wireless speaker and audio partner of the NBA, Women's National Basketball Association (WNBA), NBA G League and USA Basketball.
The multi-year partnership will commence in October 2018, just in time for the 2018-2019 NBA season.
"Beats revolutionized the music industry and has become one of the most innovative and culturally influential brands in the world," NBA Commissioner Adam Silver says press release. "Through our partnership, we have an exciting opportunity to merge sports, pop culture and technology to deliver unparalleled experiences and premium products to our fans."
Beats will establish separate deals with NBA teams, which naturally includes NBA team-branded headphones. NBA stars such as LeBron James, James Harden, Draymond Green, James Harden, Ben Simmons, Jayson Tatum and Karl-Anthony Towns will continue to act as brand ambassadors.
A new :30 spot featuring a brand new track from Migos' Quavo has also surfaced to commence the partnership.
"I always want to be the best and work with the best. That's why I joined the Beats fam – they have the best headphones and they made them a style icon when no one else thought of electronics that way," reigning NBA MVP James Harden chimed in. "Whether I'm traveling, working out or decompressing after a game, I can't imagine listening to anything without them. Beats loves basketball and always works to tell the stories of their favorite players. I'm excited to see what they do with the NBA."
In addition to providing product to players, Beats will also hold activations during marquee events including NBA All-Star, NBA Draft presented by State Farm, international NBA games in China and Europe, WNBA All-Star, WNBA Draft presented by State Farm, and USA Basketball men's and women's national team exhibition tours.
"The NBA and its players have long been significant drivers of global culture. Basketball, music, and style speak as one voice: Julius Erving became a style icon, Allen Iverson cemented Hip Hop's place on and off the court and LeBron James is breaking new music every day… the list goes on and on," said Luke Wood, President of Beats by Dr. Dre. "This partnership with the NBA is the perfect alignment for Beats. It feels like coming home."
Surprise! EDC 2019 Tickets Are On Sale Now
Insomniac Events fans got a surprise in their email this morning when they learned that tickets to EDC Las Vegas 2019 were on sale! There was no advance notice of this on-sale period, but Insomniac is making sure their most loyal fans get in on the action before anyone else.
Fans were given a limited time link to purchase tickets with heavily reduced deposit rates
$19.99 deposit for GA
$49.99 deposit for GA+
$69.99 deposit for VIP
Oh, and there's a new tier now, as well: GA+.
The new tier offers "all GA amenities plus elevate your festival experience with expedited entry through dedicated entrances, and enjoy access to special air-conditioned bathroom trailers." A full-priced GA+ ticket will run you $499, compared to $319 for GA and $779 for VIP.
If you haven't checked your email yet, do so NOW! And be sure to check your spam folder, as well.
Demi Lovato's Drug Dealer Confesses To Supplying Her Overdose To TMZ [VIDEO]
Just over a month after Demi Lovato was hospitalized for an overdose, her drug dealer has come out to the press.
In a reveal to TMZ, Brandon Johnson speaks openly about his personal relationship with Lovato and the hours leading up to her overdose, which was likely triggered by Oxycodone laced with Fentanyl, according to reports.
He admits he supplied her strong pills, but claims she knew what she was taking. He says they were hanging out in the early hours of July 24th, smoking the drugs together, and claims when he left her house she was sleeping with no signs of distress.
"100%… she knew what she was taking," Johnson says in the video below.
"I disclosed to her that these were not pharmaceutical, they're after market pills… they're much stronger. She understood fully. It was unfortunate what happened, but for anyone to think there was any misconception on my behalf is absolutely ridiculous."
Johnson also claims he didn't know the pills to be laced with anything.
"It's definitely a wake up call for her, and for me, it definitely opens my eyes to the dangers of these drugs. In the wrong hands and in the wrong usage, they can be hurtful. I'm not trying to hurt my friend, she's a really good friend of mine."
Lovato is currently in a rehab facility seeking help to fight her addiction.
Mike Shinoda Starts Incredible Tribute To Chester Bennington At Major Festival [VIDEO]
It's still hard to believe that the world lost Chester Bennington more than a year ago. The frontman of Linkin Park took his own life last year after battling with depression, anxiety, and addiction, leaving behind a legacy and a group of fans who still live by his every word.
This past weekend, fellow frontman of Linkin Park Mike Shinoda played Reading and Leeds Festivals in the UK, wherein the latter he stopped about a quarter way into his set to address the crowd. "I heard you guys start a chant a little earlier for Chester," he said.
Speaking of continuing to perform following Bennington's death, Shinoda told those in attendance: "Getting up here and doing this for me is really fulfilling, and it's really an accomplishment just to kind of get over my own anxiety about doing it again."
Watch the emotional moment below.