Win Tickets to Mamby on The Beach
There is something truly magical about being able to listen to some of your favorite music while watching the sun set behind one of the most beautiful skylines in the world. Luckily for all of you reading you'll be given the chance to experience all of that firsthand because we are once again teaming up with React Presents to bring you a giveaway for this years Mamby on the Beach!
Mamby on the Beach once again boasts an impressive lineup with the likes of Common, Cold War Kids, Richie Hawtin, Dixon, Gorgon City, and Duke Dumont, just to name a few… you can check out the full lineup below.
Entering is simple, just scroll down to the contest widget below and follow the different links in order to gain entries! You can even use the referral link as many times as you can to really give yourself the best chances. One winner will receive a pair (2) of tickets to the event, the contest ends on Thursday, May 24th. The winner will be contacted email so be sure to keep your eyes peeled on your inbox!
In case you don't want to risk not winning, head over to the Mamby on the Beach website to purchase your tickets while you can!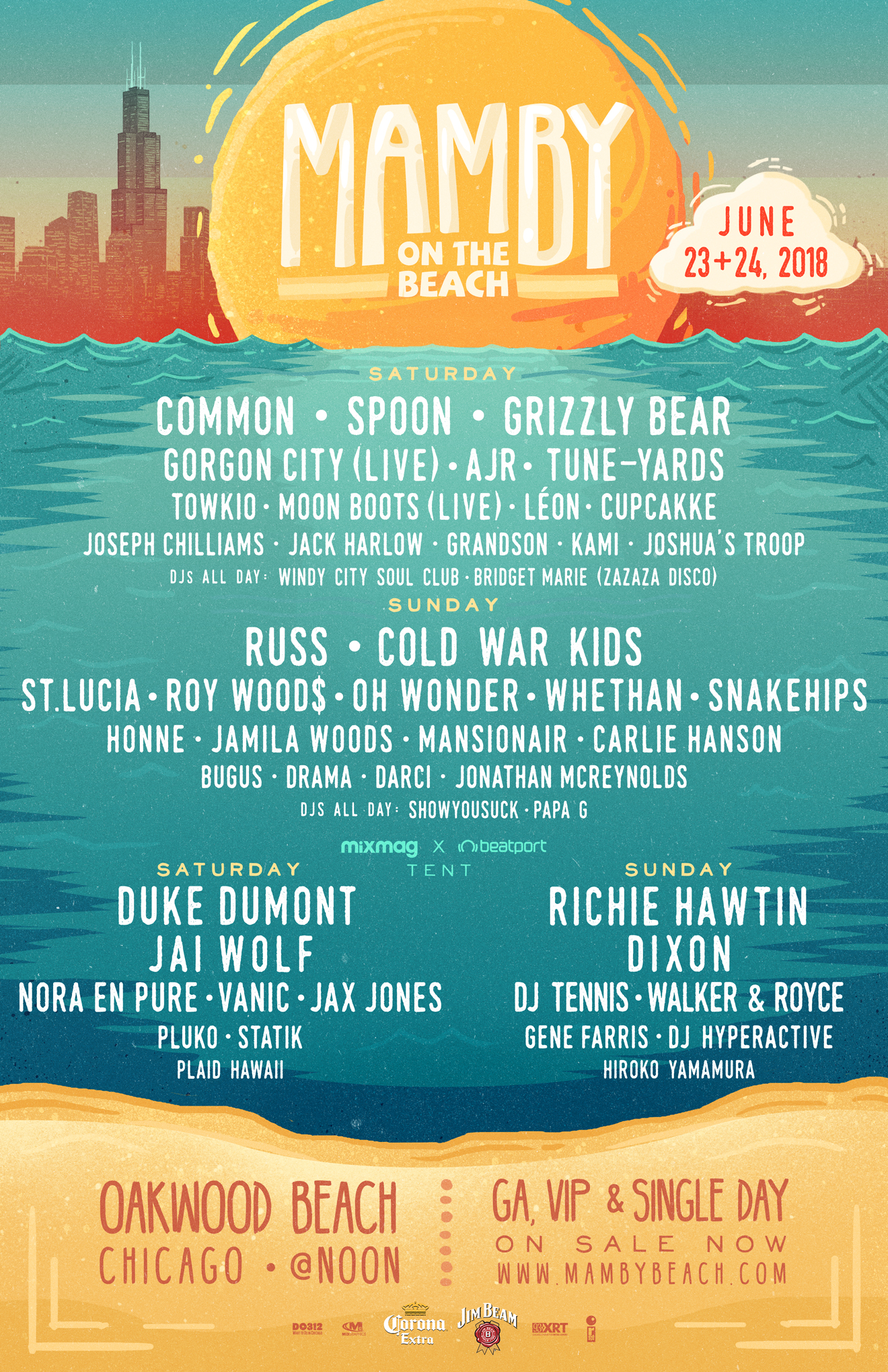 Don't forget to keep up-to-date with all of the latest Mamby on the Beach news here!
Watch Vic Mensa & Common's Performance At MarchForOurLives In DC

Common and Vic Mensa were part a Chicago contingent that showed up for the Washington, DC MarchForOurLives rally, central to the movement. They set f on foot with Kanye, Kim and even 4 year old North West, blending in with the crowd hundreds thousands.


Vic Mensa took the stage as part the rally's scheduled programming. Vic performed the politically-charged "Now We Could Be Free," fering a foreword before launched himself into 'stage euphoria.'

"This song is dedicated to Stephon Clark, Decynthia Clements and all the unarmed Black men and women killed by police weapons, Until all us are free, none us will be free."



Common coupled with singer Andra Day for performance their duet "Stand Up for Something," shortly thereafter. The song featured on the Marshall soundtrack accounts for the pairs first Academy Award Nomination in the category Best Original Song. Before his set, Common adamantly praised the focus on youth in this "revolutionary charge." Common has long recognized issues plaguing communities color. His resolve is tested like everyone else's, and yet he remains hopeful that a flexible change in political activism is within the realm possibility.


When Stars Have No Chill: Biggest OMG & WTF Moments At The Oscars
Tiffany Haddish took extra steps to meet Meryl Streep. 
Kanye West, Common, Vic Mensa Attend "March For Our Lives" In DC
Kanye West, Kim Kardashian, North West, Common, and Vic Mensa are among those who have taken to the streets DC to rally for gun control as part today's March For Our Lives event. Kim Kardashian revealed that she and Kanye had arrived in the city earlier today. "So ready to March today! Landed in DC w North & Kanye," she wrote on Twitter. "We stand in solidarity with the survivors gun violence & students who are calling for action on common sense gun safety laws at #MarchForOurLives around the country."
Common and Vic Mensa are also in DC attending the main rally, which comes in wake the Parkland, Florida school shootings. Vic is part the lineup performing at the rally. Jennifer Hudson, Miley Cyrus, Lin-Manuel Miranda and Ariana Grande have also performed. NBA legend Denis Rodman was also spotted at the rally, where he posed for a photo with Kanye.
Vic has previously spoken out against gun control. "You're not going to fight f a tyrannical government with an AR-15 or an M16, so give it up. It's not a constitutional right," he said in November. He has also denounced the notion that arming teachers will prevent school shootings. "Giving guns to teachers is absolutely asinine," he said. "It's so backwards, it's like anyone saying that clearly never been to a public school, and it's all just a diversion from big money lobbyist with the NRA."
#MarchForOurLives rallies are taking place across the U.S. Stay tuned for further updates throughout the day.
Watch Sterling K. Brown Play Common In SNL "Family Feud" Sketch
With roles in both ABC's This Is Us and Marvel's Black Panther, Sterling K. Brown is enjoying success in both the TV and film world in 2018. With that being said, the actor is not afraid to poke fun at himself, as he proved with his hilarious performances on SNL Saturday night. Brown took part in parody sketches based on both This Is Us (retitled This Is U.S.) and Black Panther.
Later on, he portrayed Common in a Family Feud sketch, where he played on a team Oscar "losers" facing f against Oscar "winners" like Frances McDormand. At one point, Kenan Thompson, who portrayed Steve Harvey in the clip, referred to Common as a "TED talk set to music." Brown also threw down some bars: "It's an honor to be a part this family / Despite our feud / We still put food on the table / Provide for the children / Make sure their future is stable." Watch the full clip below.
Common himself has not yet commented on the sketch, but we're sure he found it as hilarious as we did.
Brown expressed his thanks to the SNL team in his opening monologue "It's SNL, you know. I mean, how lucky am I to be here, and on top everything I've gotten to do in the last few years, it's just like the icing on the cake," he said.
Common And Angela Rye Broke Up
Rapper Common and Political Pundit Angela Rye, are on paper, an intellectually compatible couple. That's probably why they linked up in the first place. But late, observers have noted that the couple have not been spotted together at important industry events.

First f, Angela Rye was notably absent from his side at the Oscars. She was also not in attendance during the Ayars Agency Toast to the Arts, an event hosted by Common. To make matters worse, Angela had been receiving death threats since the pair became an item in the summer, including an email threatening her drowning death. Never the less, the couple supported one another throughout the ordeal.

Angela Rye spoke with PageSix, to confirm their amicable split. Her statement does not air any possible grievances, and alludes to the pair remaining friends for the foreseeable future. She mentioned the following:

"We have and will always be friends. He is an amazing human being, and I'm a much better person because he's a part my life. May we all keep loving and living."
Common credits Angela Rye with provoking within him, a heightened sense political awareness. It's always encouraging to hear that a grown man has found new perspectives, especially a steadfast learner like Common, who has touted "conscious rap" for the better part a decade.
Oscars 2018: Full List Of Nominees & Winners
The biggest night in film has arrived as the 90th annual Academy awards are set to kick f Sunday evening live at Los Angeles' Dolby Theatre as Hollywood's best and brightest will be looking to go home with the industry's most coveted prize. Assuming the position as master ceremonies is actor and comedian Jimmy Kimmel as viewers look on to see who will come out on top.
Leading the evening's nominations is the film The Shape Of Water, clocking in at 13 with Dunkirk following second with eight nominations and Three Billboards Outside Ebbing, Missouri cashing in on seven nominations. All three films are in the category for Best Picture accompanied by Call Me by Your Name, Darkest Hour, Lady Bird, Phantom Thread, The Post, and fan favorite Get Out. Jordan Peele and Daniel Kaluuya, the director and lead actor Get Out, are both nominated for awards in the Best Director and Best Actor categories, respectively.
Familiar names on the list also include Meryl Streep in Best Actress, Mary J. Blige and Octa Spencer in Best Supporting Actress, and Common, who is nominated for the Best Original Song category for his "Stand Up For Something" track found in Marshall—the biopic about Thurgood Marshall, portrayed by Black Panther star Chadwick Boseman. It was back in 2015 that the emcee won in the same category for his and John Legend's "Glory," a cut also written for another film about an African-American icon in the form Selma.
Check out the full list nominees and winners (updated throughout the night) below:
Best Picture
Call Me by Your Name
Darkest Hour
Dunkirk
Get Out
Lady Bird
Phantom Thread
The Post
The Shape Water
Three Billboards Outside Ebbing, Missouri
Best Actor
Timothée Chalamet, Call Me by Your Name
Daniel Day-Lewis, Phantom Thread
Daniel Kaluuya, Get Out
Gary Oldman, Darkest Hour
Denzel Washington, Roman J. Israel, Esq.
Best Actress
Sally Hawkins, The Shape Water
Frances McDormand, Three Billboards Outside Ebbing, Missouri
Margot Robbie, I, Tonya
Saoirse Ronan, Lady Bird
Meryl Streep, The Post
Best Supporting Actor
Willem Dafoe, The Florida Project
Woody Harrelson, Three Billboards Outside Ebbing, Missouri
Richard Jenkins, The Shape Water
Christopher Plummer, All the Money in the World
Sam Rockwell, Three Billboards Outside Ebbing, Missouri
Best Supporting Actress
Mary J. Blige, Mudbound
Allison Janney, I, Tonya
Lesley Manville, Phantom Thread
Laurie Metcalf, Lady Bird
Octa Spencer, The Shape Water
Best Director
Christopher Nolan, Dunkirk
Jordan Peele, Get Out
Greta Gerwig, Lady Bird
Paul Thomas Anderson, Phantom Thread
Guillermo del Toro, The Shape Water
The Big Sick
Get Out
Lady Bird
The Shape Water
Three Billboards Outside Ebbing, Missouri
Best Foreign Language Film
A Fantastic Woman
The Insult
Loveless
On Body and Soul
The Square
Best Original Song
"Mighty River" from Mudbound, Mary J. Blige, Raphael Saadiq and Taura Stinson
"Mystery Love" from Call Me by Your Name, Sufjan Stevens
"Remember Me" from Coco, Kristen Anderson-Lopez and Robert Lopez
"Stand Up for Something" from Marshall, Diane Warren and Lonnie R. Lynn
"This Is Me" from The Greatest Showman, Benj Pasek and Justin Paul
Best Animated Feature
The Boss Baby
The Breadwinner
Coco
Ferdinand
Loving Vincent
Best Adapted Screenplay
Call Me by Your Name, James Ivory
The Disaster Artist, Scott Neustadter and Michael H. Weber
Logan, Scott Frank, James Mangold and Michael Green
Molly's Game, Aaron Sorkin
Mudbound, Virgil Williams and Dee Rees
Best Documentary Short
Edith+Eddie
Heaven Is a Traffic Jam on the 405
Heroin(e)
Knife Skills
Traffic Stop
Best Documentary Feature
Abacus: Small Enough to Jail
Faces Places
Icarus
Last Men in Aleppo
Strong Island
Best Makeup and Hairstyling
Darkest Hour
Victoria & Abdul
Wonder
Best Film Editing
Baby Driver
Dunkirk
I, Tonya
The Shape Water
Three Billboards Outside Ebbing, Missouri
Best Visual Effects
Blade Runner 2049
Guardians the Galaxy Vol. 2
Kong: Skull Island
Star Wars: The Last Jedi
War for the Planet the Apes
Dunkirk
Phantom Thread
The Shape Water
Star Wars: The Last Jedi
Three Billboards Outside Ebbing, Missouri
Best Live Action Short Film
DeKalb Elementary
The Eleven O'Clock
My Nephew Emmett
The Silent Child
Watu Wote/All Us
Best Animated Short Film
Dear Basketball
Garden Party
Lou
Negative Space
Revolting Rhymes
Best Sound Mixing
Baby Driver
Blade Runner 2049
Dunkirk
The Shape Water
Star Wars: The Last Jedi
Best Sound Editing
Baby Driver
Blade Runner 2049
Dunkirk
The Shape Water
Star Wars: The Last Jedi
Best Costume Design
Beauty and the Beast
Darkest Hour
Phantom Thread
The Shape Water
Victoria & Abdul
Best Cinematography
Blade Runner 2049
Darkest Hour
Dunkirk
Mudbound
The Shape Water
Best Production Design
Beauty and the Beast
Blade Runner 2049
Darkest Hour
Dunkirk
The Shape Water
Common Reveals That Breakup with Erykah Badu Helped Him Find Himself
Last month while delivering a speech at the University Colorado-Boulder, rapper Common let loose on a very interesting revelation after unveiling that his break-up with Erykah Badu, who he dated from 2000 to 2002, provided a moment clarity after some serious soul-searching.
"I discovered I didn't truly believe in myself wholeheartedly with every morsel that I had in my body and I discovered that through a breakup," he told the crowd. "I was in a relationship with Erykah Badu. When we did break up, one the most important things I discovered was that I was scared to wear my greatness. I was afraid to wear my greatness, which meant, I could be in a relationship and dim my light for others."
"I could get around my parents and dim my light," he went on to add. "I could get around friends who I felt like I might make them uncomfortable 'cause I was doing something that they hadn't maybe achieved yet or they weren't happy with the way they were so, I would dim my light for others."
In an effort to get rid this way thinking, the Chicago-bred emcee explained that he took to reading as a form engagement that taught him something very important. "I learned that you can never dim your light," he said. "Your light is created for you to be in this world and put that light up on a lamp stand so that anyone who walks into that room will see that light. We dim our light for so many reasons. Sometimes we dim our light, most importantly, because we don't truly believe in that light. "Well, as I started to discover that I didn't believe in my path, even though I found my path, I started to work on myself. I started to work. And that took like, me sitting down reading books that fed me…The more you believe, the more you start to surround yourself with people who believe."
He would go on to add a second part to this life lesson learned, referencing the 48th annual Grammy Awards in which he was nominated for five awards, including Best Hip-Hop Album for 2006's Be, and ultimately walked away with nothing. "Believing in your path is only the second step to greatness," he noted the instance. "Living your path is the completion it."
This Fire MC Is Making Waves After Holding Her Own Against Common & Brandy
A NPR Tiny Desk concert is a time when fans can get intimate with their favorite artists. Everyone from Tyler the Creator to Chance the Rapper has performed there so that their audience can see them in a different light.
Common's Tiny Desk performance with his new group August Greene definitely turned heads with guest performance from Brandy and Andra Day. However, the featured performer who's been getting the most buzz across the Internet is Washington D.C. native Maimouna Youssef aka Mumu Fresh.
The singer and rapper dropped some monstrous bars in just a few minutes, so much so that it got the attention The Roots drummer Questlove.
Now folks across social media are celebrating this conscious spitter.
Don't think Maimouna Youssef is new to this. She's been putting in work and releasing music as early as 2006. She's even shared the stage with stars like Nas, Lauryn Hill, Erykah Badu, Bruno Mars and more.
Her latest album Vintage Babies was released in 2017 and features acts like Common and TDE's SIR. Swipe through to peep some more Mumu's stellar performances and you can check out her latest album .
Common & Brandy Celebrate #BlackExcellence In 'Optimistic' Music Vid
Earlier this year, Common teamed up with producers Robert Glasper and Karriem Riggins to create the music supergroup August Greene. The three joined together after winning a Primetime Emmy for their song "Letter to the Free" from Ava DuVernay's 13th documentary.
Now the trio is prepping new music and their first release "Optimistic" borrows from the 1991 Sounds Blackness song the same name. In this current version, they get some great assistance from Brandy to sing the chorus.
Check out the music video for the track below, which includes beautiful portraits activists making a difference in their communities!