In the opening monologue of his show, Jimmy Kimmel Live!, on Tuesday, Jimmy Kimmel informed the world of the secret signals that he believes were embedded into a video of Melania Trump unveiling the White House Christmas decorations. FLOTUS posted the video on Sunday, which shows her wandering around the White House, admiring the decor and getting into the Christmas spirit—or so we're meant to believe.
Like so many things involving the Trumps, the joyous and festive sentiment that was intended just ends up feeling creepy and unnatural somehow. Many on Twitter have even compared these shots of the decked out White House to scenes out of The Shining.
Jimmy Kimmel agreed with the clip's chilling energy, and dug a little deeper to find a clear sign that things are a little darker than they first appear (4:17).
It's a little unnerving how well this edited shot fits in with the vibe of the original video, and Melania is honestly probably overdue for pulling some kind of antic like this. She recently felt the disdain that so many Americans have for her and her husband when she was booed by a crowd of Baltimore students last week during a speech on opioid abuse. It's shocking that she hasn't dipped on this whole mess of a presidency yet. If she knew what was best for her, she'd have called it quits years ago, but the woman has never proven to be too bright in the first place.
Kamala Harris Claps Back At Trump After Dropping Out Of 2020 Presidential Race
"I'll see you at your trial."
As we inch closer and closer to reaching a Democratic nominee for the 2020 presidential election, it appears that the race has lost another candidate. Kamala Harris announced that she will be dropping out of the 2020 race earlier today. Harris was one of the more promising candidates in the race but unfortunately, it appears that casmpaign funds ran low.
"I've taken stock and looked at this from every angle, and over the last few days have come to one of the hardest decisions of my life. My campaign for president simply doesn't have the financial resources we need to continue," she said. "But I want to be clear with you: I am still very much in this fight. And I will keep fighting every day for what this campaign has been about. Justice for The People. All the people."
Kamala Harris has been vocal in her feelings towards Donald Trump throughout her campaign. After news broke that she'd be dropping out of the race, Donald Trump didn't take long to chime in on the situation. Trump's 2016 presidential campaign manager pointed out the difference between Kamala and Trump's campaign styles in a tweet. Trump quoted the tweet and sarcastically wrote, "Too bad. We will miss you Kamala."
Kamala wasted no time with her clap back, quoting Trump's tweet and writing, "Don't worry, Mr. President. I'll see you at your trial."
A$AP Ferg Twitter Hack: Racial Slurs & Drake Lust

A$AP Ferg got behind the hack attack relatively quickly.

With it being so easy to hack into anybody's social media accounts nowadays, it's important to ensure your own cyber safety by crafting carefully-made passwords for each platform you use. If you think your username and pass are easy to guess, you're probably right. We don't know what A$AP Ferg was using to access his online accounts but apparently, it was simple enough for a hacker to come through with some terrible statements on his behalf.

Jamie McCarthy/Getty Images
Many of the tweets have since been deleted but, this morning, A$AP Ferg was the victim of a pretty serious hacking job on his Twitter profile. It was clear that the rapper's account had been compromised after he tweeted out that he had just done a bunch of cocaine with a random dude, tagging the guy in the post. Then, the posts started getting pretty disgusting. Declaring that "Drake's butthole is Tasty ASF," Ferg's hackers began to share some disturbing racial slurs on the profile, pretending to be the Harlem star.
"Donald trump is a n***er," wrote the hacker before digging even deeper. "I think n***ers are not humans," added the unauthorized hacker in a separate post. Clearly, these messages are not being sent from Ferg himself. Hopefully, he's able to get the people responsible for this.
Donald Trump Shares Shirtless Photoshop Of Himself As Rocky Balboa
This is our President...
Each and every day, some of us wake up wondering how President Donald Trump will manage to make a mockery out of the United States once more. It seems that he's become quite the expert at tainting the country's reputation, appearing to overseas onlookers as a joke of a leader. If you take a trip to, well, literally anywhere in the world and ask about Trump, you will likely hear laughter and banter about how ridiculous his term has been as the man in charge of the White House. Those of you who were asking yourselves when he would strike with his latest stupid post need to look no further than the President's most recent upload on Twitter.
For some reason, Donald Trump just posted a photo of himself shirtless, edited on top of Rocky Balboa's body. Currently facing impeachment, Trump is out here acting a fool, not caring one bit about what anybody thinks of him and continuing to just embarrass himself in front of the entire world. The doctored image was posted without any accompanying caption so the dedicated people of the United States were left wondering exactly why he even shared the pic. Needless to say, it has already racked up over 91K retweets and has garnered even more reactions.
How do you feel about President Trump?
Steelers' New QB Deletes Tweets Supporting Trump And Gets Caught
Fans immediately caught on to what Devlin Hodges was doing.
Whenever an athlete gets drafted into a league or is promoted to a position of power, fans flock to social media to look at their social media presence. More often than not, the fans overstep their bounds and dig up tweets from the past which tend to be incriminating in certain ways. For instance, racist or sexist tweets tend to be at the top of the list when it comes to this kind of Twitter sleuthing.
Today, newly-appointed Pittsburgh Steelers starting quarterback Devlin Hodges was the victim of this very investigation. According to some screenshots of his Twitter, Hodges had tweeted some support of Donald Trump a couple of years ago. Thanks to his promotion, he began deleting these tweets and people immediately caught on and took some quick screenshots before more tweets were deleted.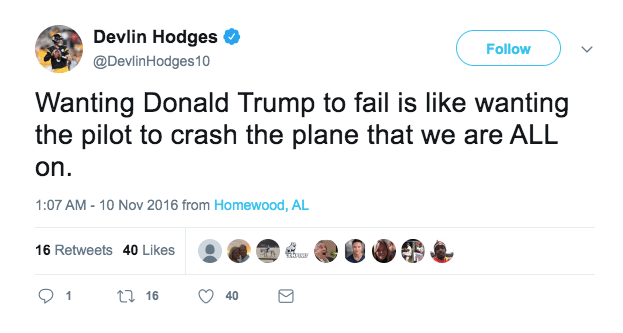 Image Twitter
Hodges hasn't commented on this yet and he probably won't which isn't necessarily a bad thing. People's opinions are always changing and depending on your political leanings, these Tweets aren't much of a big deal at all. Either way, this isn't exactly the way you would want to start your career. If you're Hodges, this is the last thing you would want to be worrying about.
As the next game approaches, this situation is bound to get a lot more interesting.
Stephen Colbert Remixes A$AP Rocky's "Praise The Lord" With Impeachment Clips

He doin' it all for clout.

While normally rappers are the ones name-dropping people in their songs, A$AP Rocky probably never expected this. During the impeachment hearings for the possibly least favorite President to ever exist (aka Donald Trump), U.S. ambassador to the European Union Gordon Sondland said A$AP Rocky's name multiple times. Sondland recalled a July 26 phone conversation where rocky was discussed due to the Sweden incident where he was imprisoned. Sondland said, "It's true that the president speaks loudly at times and it's also true I think we primarily discussed ASAP Rocky." He continued saying, "It's true that the president likes to use colorful language. Anyone who has met with him for any reasonable amount of time knows this." "Colorful"…what a diplomatic way of saying "unpresidential".

Steven Lawton/Getty Images
Stephen Colbert, who always has a hilarious angle for everything, decided to chop up clips of Sondland speaking at the impeachment hearing with Rocky's 2018 song "Praise The Lord (Da Shine)" featuring Skepta. The Late Show with Stephen Colbert's video shows the stark contrast between the world of rap and politics, but yet they somehow still collide here. One has to wonder how Rocky feels about being a topic of discussion at an impeachment hearing. These hearings are historic, and now A$AP Rocky takes a spot in political history forever.
A$AP Rocky Namedropped In Presidential Impeachment Hearing
What a time to be alive.
A few examples notwithstanding, politicians namedropping rappers is never a good look. At best it's pandering, and on the opposite end of the spectrum, it's archaic takes on lyrical content. When Bill Clinton was in office, a connection was made between Eminem's music and the Columbine shooting, a take that has become increasingly tone-deaf in hindsight. And now, with Donald Trump in office, A$AP Rocky has found his name dragged into the ongoing impeachment discourse.
Mike Lawrie/Getty Images
The namedrop arose during a testimony from U.S. ambassador to the European Union Gordon Sondland, who reflected on an A$AP-heavy phone call with President Trump. "It's true that the president speaks loudly at times and it's also true I think we primarily discussed ASAP Rocky," he explained, as seen in a clip below. "It's true that the president likes to use colorful language. Anyone who has met with him for any reasonable amount of time knows this."
To make the whole thing ever murkier, a testimonial from David Holmes, United States Embassy in Kiev official, claimed Sondland's advice was to "let [A$AP] get sentenced, play the racism card, and give him ticker tape when he gets home." For additional context, the reason Rocky was being discussed at all stems from his recent incarceration, which found Trump moving to intervene on his behalf; lest we forget "Get Home ASAP, A$AP." While it's hardly impactful in a political sense, the idea that A$AP Rocky's name can come up during such an impactful hearing is absurdly comedic. And yet, this is the time we live in.
YG Brings Out Stormy Daniels While Performing "FDT" At Camp Flog Gnaw
Big day at Flog Gnaw.
On this lovely Monday morning, everyone is waking up to two rather entertaining headlines that came out of Day 2 of Camp Flog Gnaw. Tyler, The Creator's eighth annual music festival at Los Angeles' Dodger Stadium had a stacked lineup set up for Sunday as well as a surprise guest. As we all probably know already, the surprise was Drake and the crowd was not too pleased to see him, rather than their beloved Frank Ocean. Considering the demographic of CFG is largely comprised of people who were wearing tie-dye shirts with satanic kittens on them around 2010, Drake was not their cup of tea.
Aside from Drake getting boo-ed, another video popping up on social media feeds today is YG bringing out national hero (or enemy, depending on who you ask), Stormy Daniels, during his set. Of course, she joined the Compton rapper to perform his rallying cry, "F*ck Donald Trump (FDT)". The adult film star gave herself a grand introduction, telling the crowd: "My name is Stormy f*cking Daniels, and I am the reason Donald Trump is f*cked." YG also asked Daniels to confirm whether she in fact had sex with the US president over a decade ago, to which she responded: "No, I just laid there." Daniels, who also possesses expertise as a stripper, then proceeded to gyrate to YG's hit song in front of a backdrop of not-so-flattering footage of Trump.
Donald Trump Denies Reports That He's Discussing Next TV Show
Could Trump be eyeing a return to TV?
According to The Daily Beast, Donald Trump is eyeing a return to TV after the conclusion of his presidency. The publication says he is in talks with The Apprentice creator Mark Burnett, but Trump has attacked that information as "fake news."
"Fake News is reporting that I am talking to Mark Burnett about doing a big show, perhaps The Apprentice, after the presidency, which I would assume they mean in 5 years. This is not true, never had such a conversation, don't even have time to think about it. False reporting!" Trump wrote in a recent tweet.
TheDaily Beast says that a "person with knowledge of the situation" says "There have been several discussions between Burnett and Trump about The Apprentice: White House. It is something Burnett thinks could be a money-spinner and Trump is very keen on doing."
They are also reporting that another "knowledgeable source" said, "They actually talked about an Apprentice: White House," but conceded that "as far as I know, the discussion did not go far."
A spokesperson for Burnett also said the reports are inaccurate telling The Daily Beast, "The quoted statements attributed to Mr. Burnett are absolutely false. Among other things, the president and Mr. Burnett have not discussed making television shows in any shape or form."
Neil Young Says US Citizenship Delayed For Past Marijuana Use

Neil Young is having trouble applying for duel citizenship.

Throughout all the year's music legend Neil Young has spent in the United States, he has maintained his Canadian citizenship, and now, he seeks to become a duel citizen. He opened up about the decision in an interview with The Los Angeles Times last month saying, "I'm still a Canadian; there's nothing that can take that away from me," he said. "But I live down here; I pay taxes down here; my beautiful family is all down here — they're all Americans, so I want to register my opinion," referring to the ability to vote.
Matt Kincaid / Getty Images
Now, according to Stereogum, he's finding the process more difficult than expected. He opened up about how his past marijuana use is holding him back on his website saying, "I want to be a dual citizen and vote. When I recently applied for American citizenship, I passed the test. It was a conversation where I was asked many questions. I answered them truthfully and passed. Recently however, I have been told that I must do another test, due to my use of marijuana and how some people who smoke it have exhibited a problem."
"I will keep you posted, but I don't think I will be able to remain parked here during the proceedings," he finished.