There is Video Of Delonte West Getting Beat Up in Middle Of DC Street
The sad saga of Delonte West has taken perhaps its saddest turn.
Last year, West, who struggled with mental health issues during his highly entertaining NBA career and spent time in an institution in 2016, was caught on tape multiple times appearing homeless. That was in Texas.
Now it appears he's returned to his hometown of Washington DC and things have gotten even worse.
In one video from today, a man who looks like West is beaten up in the middle of a busy DC-area street in what may be a case of road rage.
Apparently Delonte West was seen getting beat up in the street this Morning. I went to school with him and it's crazy to see just how his life has gone downhill since the NBA. pic.twitter.com/chm6Sbu9h6

— Measha⚡️ (@N90sKindOfWorld) January 20, 2020
In another video, he rants angrily about a fight he was in, accusing his assailant of having a gun.
Slim doing bad NBA need to offer him some help pic.twitter.com/b7MtTj9JAt

— Maybe: Damani (@damani_givens) January 21, 2020
Pray for Delonte West.
Adrien Broner is Now Begging For Money On Social Media
Adrien Broner got $2.5 million to lose to Manny Pacquiao almost exactly a year ago. Even before that, he was the type to stunt all of his cash on the gram, even flushing some of his money down the toilet for the clout of it all
His life of excess has caught up with him and today the 30-year old jumped on social and played the part of a crackhead by begging his fans for the paltry sum of ten dollars.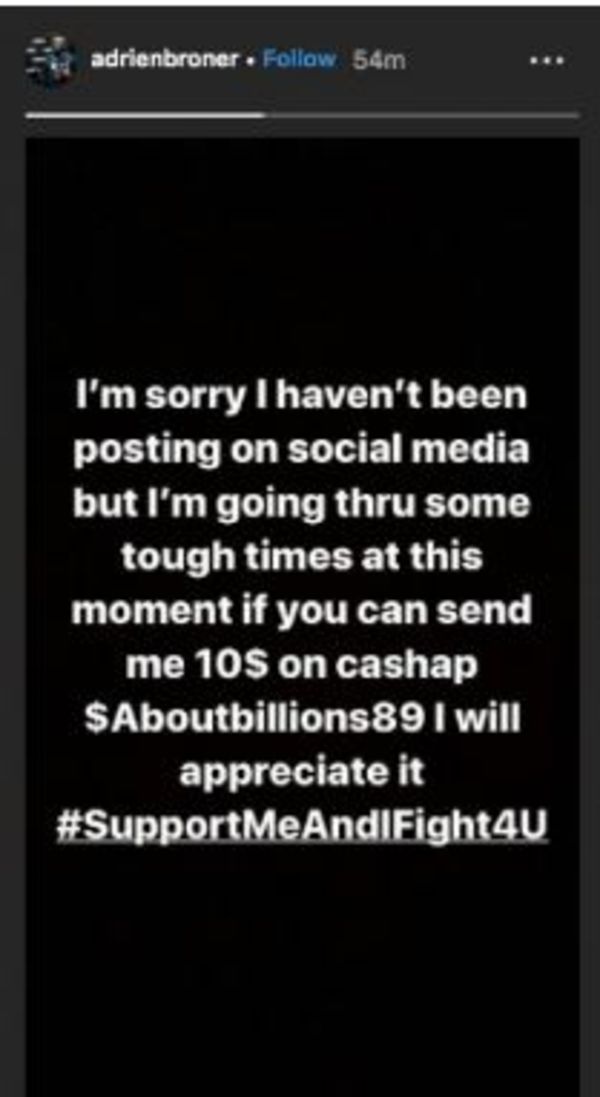 "I'm sorry I haven't been posting on social media but I'm going thru some tough times at this moment if you can send me $10 on cash app I'll appreciate it #SupportMeAndIFight4U," he typed.
Broner has been having a tough time lately. Earlier this month he had to apologize after sliding into Bhad Bhabie's DMs and then getting called out by the 16-year old, who fashions herself somewhat of a Chris Hansen-type.
Here's a seven-year-old video of Broner giving bills greater than tens the old flush:
Machine Gun Kelly Claps Back after Eminem Dismisses Him On Unaccommodating
On Eminem's surprise album Music to Be Murdered By, Eminem addresses and dismisses Machine Gun Kelly on his Young M.A featured track "Unaccommodating."
"But when they ask me is the war finished with MGK? Of course it is
I cleansed him of his mortal sins, I'm God and the Lord forgives even the devil worshippers
I'm moving on but you know your scruples are gone when you're born with Lucifer's horns
And you're from the school of Notorious, Puba, Cube and The Poor Righteous Teachers tutored my students
Showed them all the blueprint and formula
But it seems like the more they studied my music, the more they remind me of eyeballs
I'm watching my pupils get cornier," Em raps.
After hearing the track, MGK jumped on Twitter and suggested he wants more smoke.
mad af I just stepped out a loud room to hear this bullshit 💩

— colson (@machinegunkelly) January 17, 2020
he's been rich and mad for 20 years straight. 🤣🚮

— colson (@machinegunkelly) January 17, 2020
"Mad af I just stepped out a loud room to hear this bullshit," MGK typed. "He's been rich and mad for 20 years straight."
Kelly's next album is a pop-punk effort with Travis Barker. Are you allowed to address rap beef on a punk album?