Blueface Mocked Nipsey Hussle's Artist KIlla Twan After He Threatened Him & Wack 100
Nipsey Hussle's artist Killa Twan was not happy that Wack 100 said Nipsey had it coming and wasn't a legend during a recent NoJumper interview Wack did with his artist Blueface, who laughed during Wack's remarks.
So Twan fired off this threatening Tweet.
On NicKersons I'll fuck over @bluefacebleedem in a head up squabble. LiL nigga betta watch his muhhfuckin mouf... him & wack!!

— 🗣itsKillaaaaa (@killatwan) November 9, 2019
Blueface shot back in a now-deleted reply, wondering why Nip's assumed killer Eric Holder is still alive if Twan is such a Killa.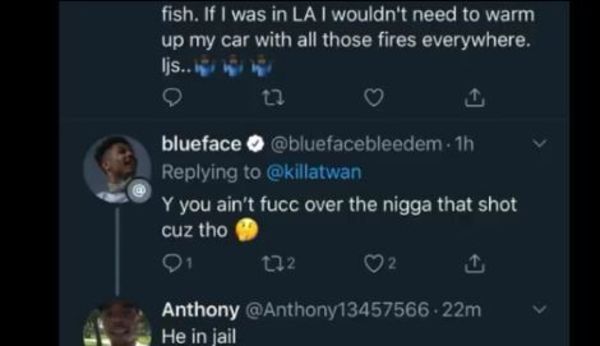 "You ain't fucc over the n*gga that shot cuz tho," Blue typed.
Does Blue have a point, or does Holder being locked up negate it? (They did have a chance at him the day or so after he did Nip.)
Here are the comments Wack made -- and Blue laughed at -- about Nip that had Twan enraged:
"In this situation, you have a rapper and a guy who's straight gang," Wack said. "This all happened in a matter of 45 minutes, not the next day. Because [Nipsey] was dealing with a shooter ... What happened was what was supposed to happen. If I approached someone and say 'yo, you a snitch' I'm going to be ready for that. You're not going to walk away from me. Because I already made my mind up because I'm going to do next."
And this:
"What I'm saying is you got a man who died with a million followers and no radio hit and no platinum plaques. Because everybody started talking like he's the Popeye chicken sandwich everybody jumped on the bandwagon. He went 10-20 times platinum. Radio is spinning his songs. Come on bro ... Nipsey's never been on a world tour. " Why? He did not die n A-list artist."
Iggy Azalea Comes For T.I. Over Hymen-Gate
For some reason, T.I. decided to tell the world that he still takes his 18-year-old daughter Deyjah for annual hymen checks.
Most of the world -- including Deyjah -- was pretty put off by Tip's meddling and the unscientific nature of the meddling.
Iggy Azalea has been beefing with her label boss for a minute and she used the opportunity to take another shot at Tip in a since-deleted Tweet: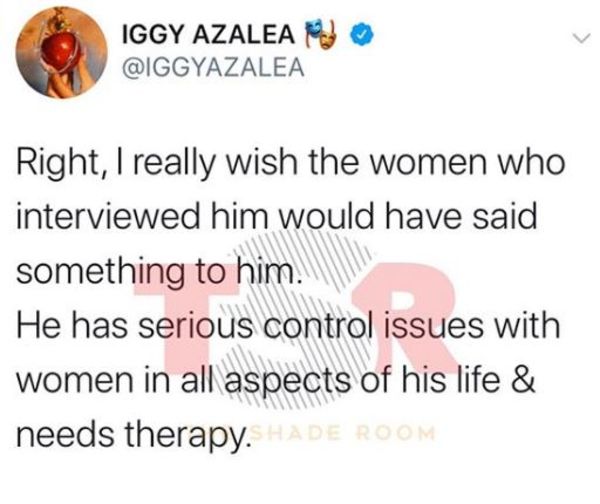 "I really wish the women who interviewed him would have said something to him," Iggy wrote on Twitter, referring to the hosts of Ladies Like Us, the podcast on which Tip made the startling revelation. "He has serious control issues with women in all aspects of his life & needs therapy."
Here's the audio of T.I. getting creepy about his adult daughter's body:
Your EDM Interview: Minus Manus Tells Us Why He Loves This Club
The dance/pop producer Minus Manus enjoyed a successful summer, and hit us hard with his floor-ready single 'I Love This Club.' We wanted to hear a little bit more about what makes him tick as a producer, and what he wants to bring to the table in the near future.
Check out our exclusive interview and the official video to his recent hit below.
Many thanks for joining us! How would you best introduce yourself?
Thank you so much for having me! My name is Magnus, and I'm an overly positive songwriter and producer and proud father of 3 chickens, 4 bunnies and a weird cat.
What is the Minus Manus sound all about? When did you start making music?
I've been writing pop songs since I was 10 years old, but really got into producing about 7 years ago. The Minus Manus sound is a mixture of house and deep house with pop melodies on top.
What do you love most about doing this as a job?
I guess what I love most about this job is how unpredictable it is. You never know what the next day will hold. You get to travel the world and meet new people every day, and in the end, it's all about the music.
Where did your musical love story start for you? Do you remember any key early influences?
It started when I was 10 and got my first guitar. I remember writing my very first song after learning 3 chords. My first big influence was Max Martin. In the beginning I didn't realise it was him, but his songs made a big impression on me as a kid. When I got older I looked into his history and was blown away. At one point I remember making my own Excel sheets as I was going through and analysing all of his songs, looking at BPM and song structures, trying to find that secret recipe. 
Who or what are you currently really into, music-wise?
I'm so into Lauv right now – he writes amazing melodies. Production wise I'm really into Louis the Child and Flume. They both take their productions to places I could never imagine.
'I Love This Club' is out now and a great track! Did it take you long to produce?
Thank you so much! I wrote the first version of the song in a really fun session with Karl Zine in London. I kept working on it when I got back to Norway, and had Oda Evjen Gjøvåg rewrite the lyrics. Overall I think I produced the track in a couple of days. It was the kind of track that had a clear direction from the very start, so I didn't spend any time fumbling around trying to find a sound.
Are you happy with the end result?
Yes, absolutely! Even if I've heard the song a million times already, I'm still very much in love with it.
Who would you love to remix or collaborate with?
Having Sia on a track would be an absolute dream. Even though my sound is very electronic, I'm still very pop at heart, so anyone from Zara Larsson and Bebe Rexha to Bruno Mars.
What do you have coming up next?
We have my next single ready to go whenever the time is right. I also have between 10 and 15 songs done to follow up, so I think we have some fun times ahead.
Is there anything else we should know about you?
I know this might be very controversial, but I actually do like pineapple on my pizza.