The #1 Festival of 2017 Returns with 1 Million Watts of Bass & 3x The Dinosaurs [GIVEAWAY]
Last year, Lost Lands came out of nowhere to be one of dance music's favorite festivals. It was even voted 2017's Best Festival by Your EDM's readers. Between all of the insane sets and the incredible gathering of all of bass music's top dogs, not to mention all the dinosaurs and set pieces scattered around the festival area, it's easy to see how much effort went into making the first year a success.
Now onto its second year, Lost Lands isn't struggling to up the ante. In fact, it all seems pretty effortless (from the outside, of course). One of the things that makes Lost Lands so spectacular is paying attention to feedback from fans. Everything from booking the lineup to picking the food vendors involves fan polling in order to guide the festival to the most enjoyable experience. Best of all, show runner Excision is literally involved in every detail.
This year, there will be two full size main stages – as opposed to one main stage and a "side" stage last year. The Paradox will return again for year two, albeit with a few new bells and whistles, but the second stage has yet to be revealed.
And even after the festival day is over, sound camps will be in full swing throughout the night. Obviously there will be those set up by campers, but Lost Lands itself will also set some up. And of course you can expect tons of surprise sets from artists throughout the weekend. To make things even easier, camping spaces in GA will be expanded to 50 sq ft (something fans made happen thanks their feedback).
The festival will feature an insane one million watts of bass from PK Sound, as well as 3x more dinosaurs than last year. They will be everywhere.
In the interest of making sure everyone gets a chance to experience this wonderful festival, Your EDM has teamed up with Lost Lands to give away two pairs of tickets to two lucky fans (one pair per winner). Enter the contest below for your chance to win!
This year's Lost Lands will feature headlining performances from the likes of Excision, Flux Pavilion, Ganja White Night, Illenium, Jauz, Nero, NGHTMRE, Rezz, Rusko, SLANDER, Zomboy and more.
Lost Lands recently announced VIP tickets are more than 70% sold and tickets are moving fast! Get them here.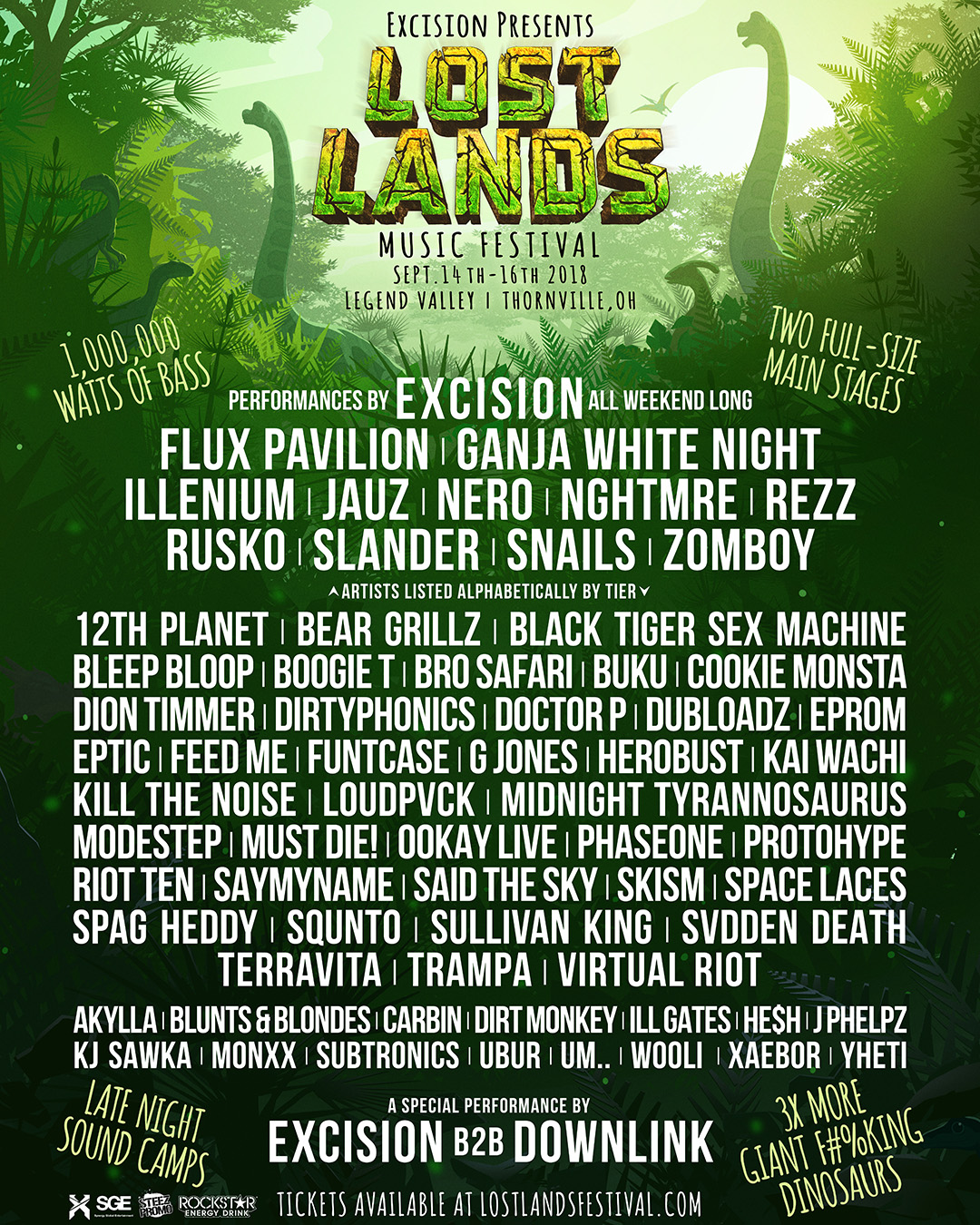 ZHU & Nero Score Huge Award for Their Strange, Beautiful Video [NSFW]
Late last year the stars aligned and brought us the collaboration between ZHU and Nero, with its strange, experimental sound and a NSFW video to match. Now, the song's music video is being recognized by the Berlin Music Video Awards for its amazing effects.
"Dreams" is certainly well-deserving of the title. The music video creates its own surreal reality with a bunch of very naked people. It's a little weird to watch, maybe even scary for some, but as the video effects kick into high gear, it's also super intriguing to see where the bizarre imagery goes.
While it'd be nice truly love to understand the deeper meaning at play with ZHU and Nero's music video, taking in the art before us is really all we can do with this one. Both artists thrive in this realm of dark, twisted imagery and this time it's paying off with some official recognition.
Congrats to the artists and everyone behind the spectacular music video on the "BEST VFX" win!
Guaranteed, you've never seen anything like this…
ZHU & Nero – "Dreams" (Official Music Video)
Directors: Elliott Sellers & Erik Ferguson
Production: Doomsday Entertainment
Label: Mindofagenius
BREAKING: Two Members of NERO Split Up Into New Project
For those who don't know, NERO began as Dan Stephens and Joseph Ray, but quickly brought on Alana Watson as a permanent member after the massive success they had with her on their debut album Welcome Reality. In Between II Worlds, released 2015, Watson had a much more prominent role in the creative process. At the same time, a romance was brewing between Dan and Alana and they got married in December 2015. They announced in June 2017 that they were expecting a child together, which has probably been born by now.
Today, NERO made a shocking announcement that Dan and Alana are creating a new group together, called The Night. With this announcement, it's unclear what the future NERO will be, especially now that it seems Dan and Alana will be focusing more on their new project.
"For the past decade you've stood by our side as Nero," read the announcement. "It's now time to tell a different story."
Details on The Night's first music is coming soon!

Trap Nation Launches New Mystery Artist with NERO Cover & Debut Single
Breaking into dance music these days has become more difficult than ever. Yes, learning to produce has also become easier than ever, but big artists are completely entrenched in their popularity, and, while kids say they want something new, they constantly rebel against the unfamiliar.
All that being said, there's no substitution for good music and proper branding, and KLOUD has both. The identity KLOUD remains a mystery, but we do know that it's an artist personally overseen by the guys at Trap Nation. KLOUD's first single is a cover Nero's hit "Promises," approaching 600,000 plays within the first week. For a debut single for a brand new artist, that's some incredible hype.
Today, KLOUD released his second single, a new original entitled "Dark Down Below." Featuring what we can only assume to be KLOUD's own vocals, we also get a taste for his original songwriting and composition. What we get is a slightly ster electro house vibe with some future bass elements and vocal chops. The production is crisp and impressive, proving that KLOUD can do well with his originals as well as covers (we've yet to see a true remix, I suppose).
"Dark Down Below" comes as Part II a five-part series, as revealed in the description the track. The following chapters will be "In For The Kill," "Satisfied," and "Burn Me." And if they continue at this rate, we'll be getting one new track a week, but we'll have to see.