Supreme is one of the biggest streetwear brands in the world and are famous for their collaborations which transcend pop culture and fashion. One of the brands they collaborate with the most is Nike and every season, it seems like we get a whole new collection of Supreme x Nike gear. Thanks to the sneaker leaker Twitter account @pyleaks, it appears as though the Spring/Summer 2020 season will see another collab between the two brands, with two colorways of the iconic Nike Air Force 1 Low on the way.
Based on the post which can be found below, it looks like there will be black on black colorway and a white on white version. If this is true, Supreme will be adding its branding to two of the most iconic colorways in the shoe's history. The all-white Air Force 1 Low is the perfect Summer shoe while the triple-black model has been a sneaker meme for years.
The information is fairly new so as you would expect, there are no official release dates or images just yet. Stay tuned for updates regarding this collab as we will be sure to bring them to you.
Nike Air Force 1 Foamposite Pro Cup "Snakeskin" Drops Tomorrow: Photos

The Air Force 1 is getting a makeover.

If you were to think about the most iconic shoes of all time, the Nike Air Force 1 Low would certainly be on that list. Now if you were to look at some of the best basketball shoes of all time, you would surely be thinking about the Nike Foamposite. Considering just how iconic these two models are, you can just imagine the results when you mix the two together.
The Nike Air Force 1 Foamposite Pro Cup is exactly what you would expect from a merger of these two styles. Essentially, Nike takes the iconic silhouette of the Air Force 1 and gives it the composite upper of the Foamposite Pro. As for the colorway, Nike has opted for an all-over black aesthetic that is complemented by green snakeskin patterns all throughout the upper. If you were to wear this shoe in public, you would certainly be making a huge statement.
If you're a fan of this model and are looking to cop for your collection, you will be able to do so as of tomorrow, June 15th for $180 USD, according to Sneaker News.
Rasheed Wallace's Nike Air Force 1 High Drops This Weekend: Details

Wallace was known to sport the shoe during his playing days.

Rasheed Wallace was famous in the NBA for two things: his fadeaway jumper and his love for wearing Nike Air Force 1 High's out on the court. These two passions are being immortalized in this latest model of the Nike Air Force 1 High which is being dubbed "Sheed." The former Detroit Piston was famous for his footwear and Nike is making sure they pay homage to the 2004 NBA Champion.
The shoe is pretty simple as it is covered from white from toe box all the way up to the cuff. What's particularly interesting about this shoe is the fact that it's constructed from patent leather as opposed to regular leather. Even the strap around the cuff is patent leather, making this shoe fairly glossy at first glance. It will also feature a silhouette of Wallace doing his signature fadeaway on the back heel near the outside of the shoe.
If you're looking for an Air Force 1 High for the Summer, this sneaker is perfect and will drop on Saturday, June 1st for $170 USD, according to Sole Collector.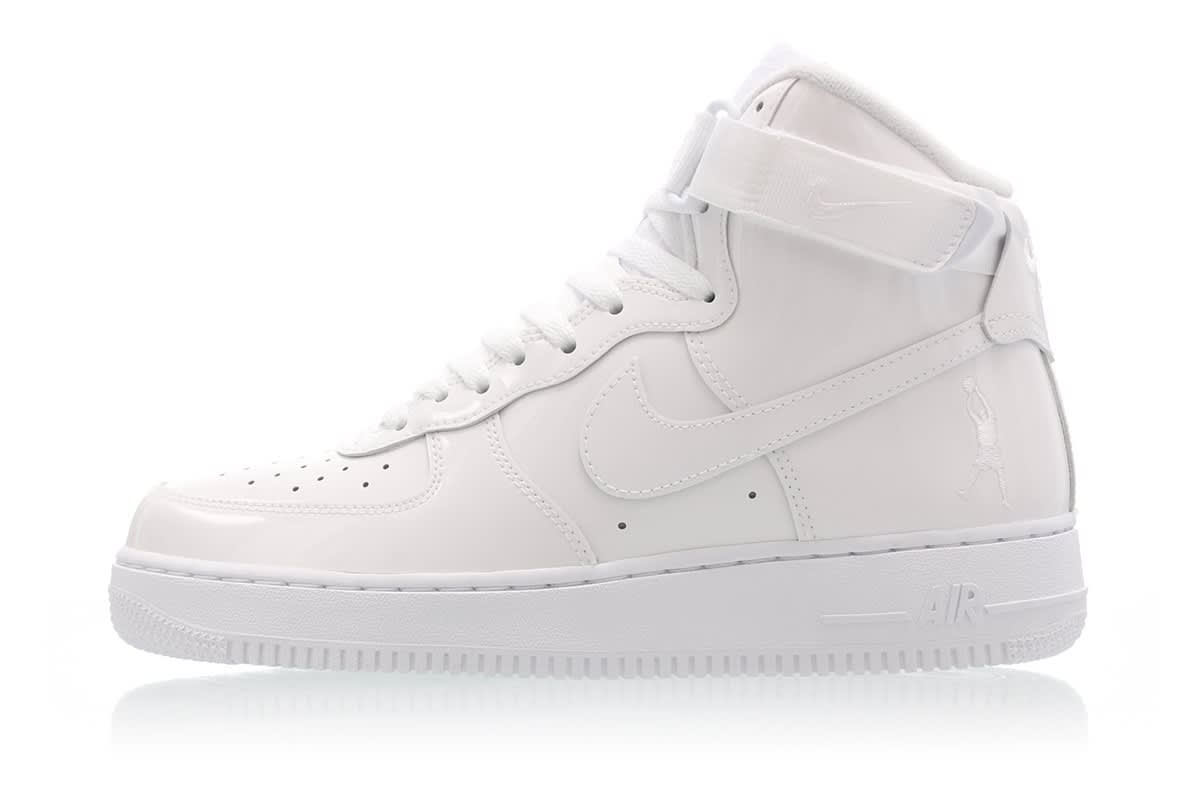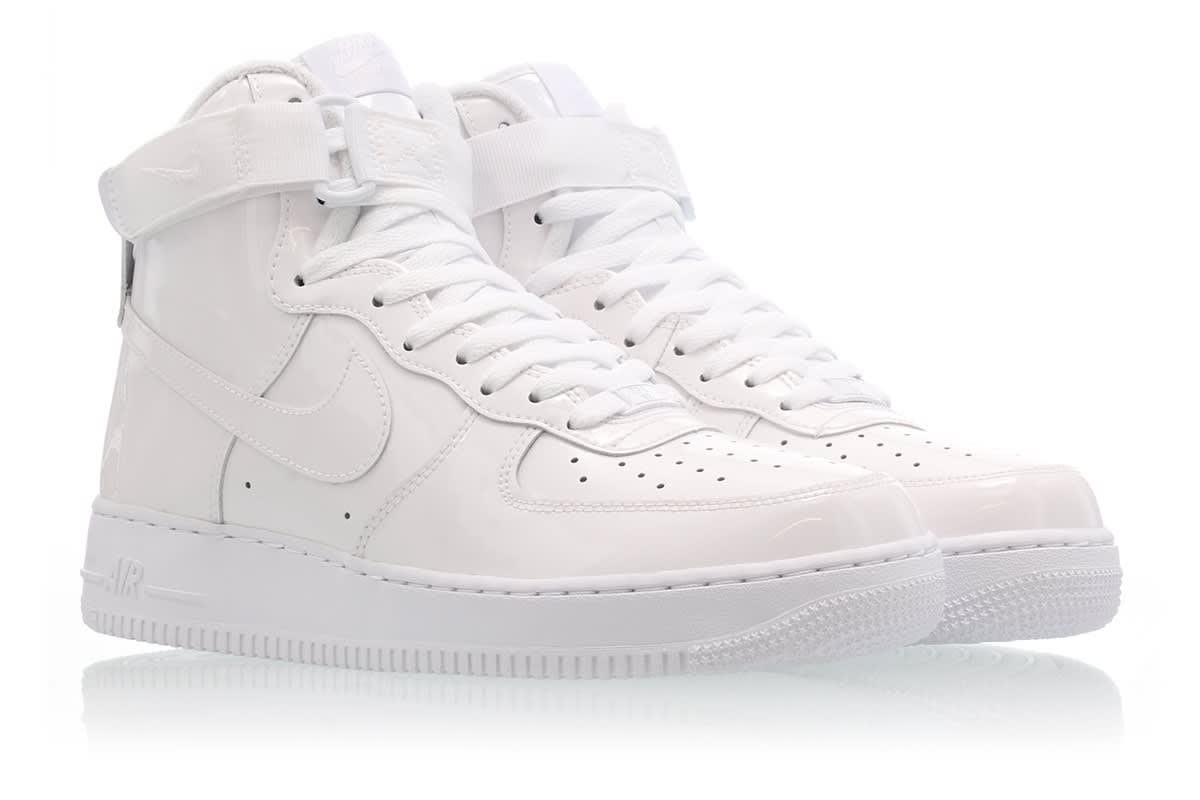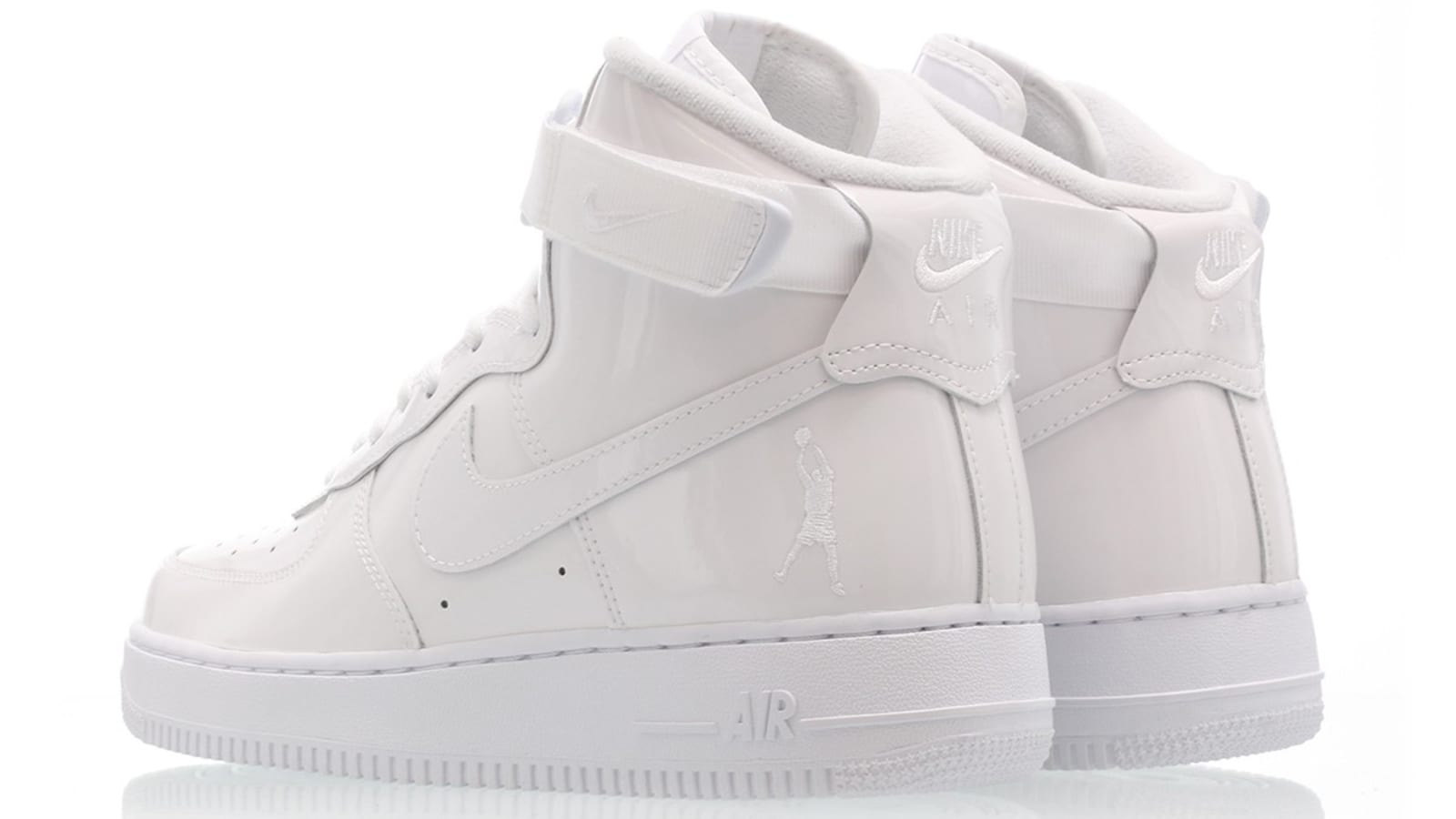 Nike Cancels "Puerto Rico" Air Force 1 Following Intense Backlash

Nike mistook Panamanian culture for Puerto Rican culture

Last week, we reported on the Nike Air Force 1 Low "Puerto Rico" which was set to release in June. Immediately after Nike announced the shoe, the internet erupted in outrage and for good reason. It was pointed out by many in the Puerto Rican and Panamanian communities that the graphics on the side of the shoe was actually a "Mola" which is an art form in Panama and not Puerto Rico. A petition was launched to cancel the shoe, while avid sneakerhead DJ Clark Kent took to Instagram to educate people on what a "Mola" is.
This is called a "Mola" It is a Panamanian art form," DJ Clark Kent explained. "You can find it anywhere in my home country, PANAMA. Respectfully, This is not a part of Puerto Rico's rich culture. Though we are both Spanish speaking people, we have different traditions, art & cultural expressions. When celebrating one, please do proper research. These things should not be confused."
In the aftermath of these criticisms, Nike has officially canceled the launch of the shoe. A spokesperson for the company spoke to Sole Collector, saying "We apologize for the inaccurate representation of the design origin for the Nike Air Force 1 'Puerto Rico' 2019. As a result, this product will no longer be available."
Once again, the power of the internet reigns supreme.
Nike Air Force 1 Low "Puerto Rico" Comes With Colorful Mosaics: Details

A longstanding Nike tradition is back.

Every year or so Nike blesses us with some fresh sneakers that celebrate Puerto Rico. These designs are always meant to pay homage to the rich culture of the U.S. Territory and are some of the most sought after designs. This year though, Nike is upping the ante, especially with the Nike Air Force 1 Low which is coming in a clean, yet colorful model.
The upper of the shoe is mostly comprised of white leather and even has a white Nike swoosh. On the side panels which wrap all the way to the back heel of the sneaker, there is a colorful mosaic that adds a huge pop of flair to the overall aesthetic of the pair. It's a nice touch that will surely look great once these are put on-foot.
As for the release date, these are expected to drop sometime in June for $100 USD. You can check out the specific details of the shoe below courtesy of Sole Collector.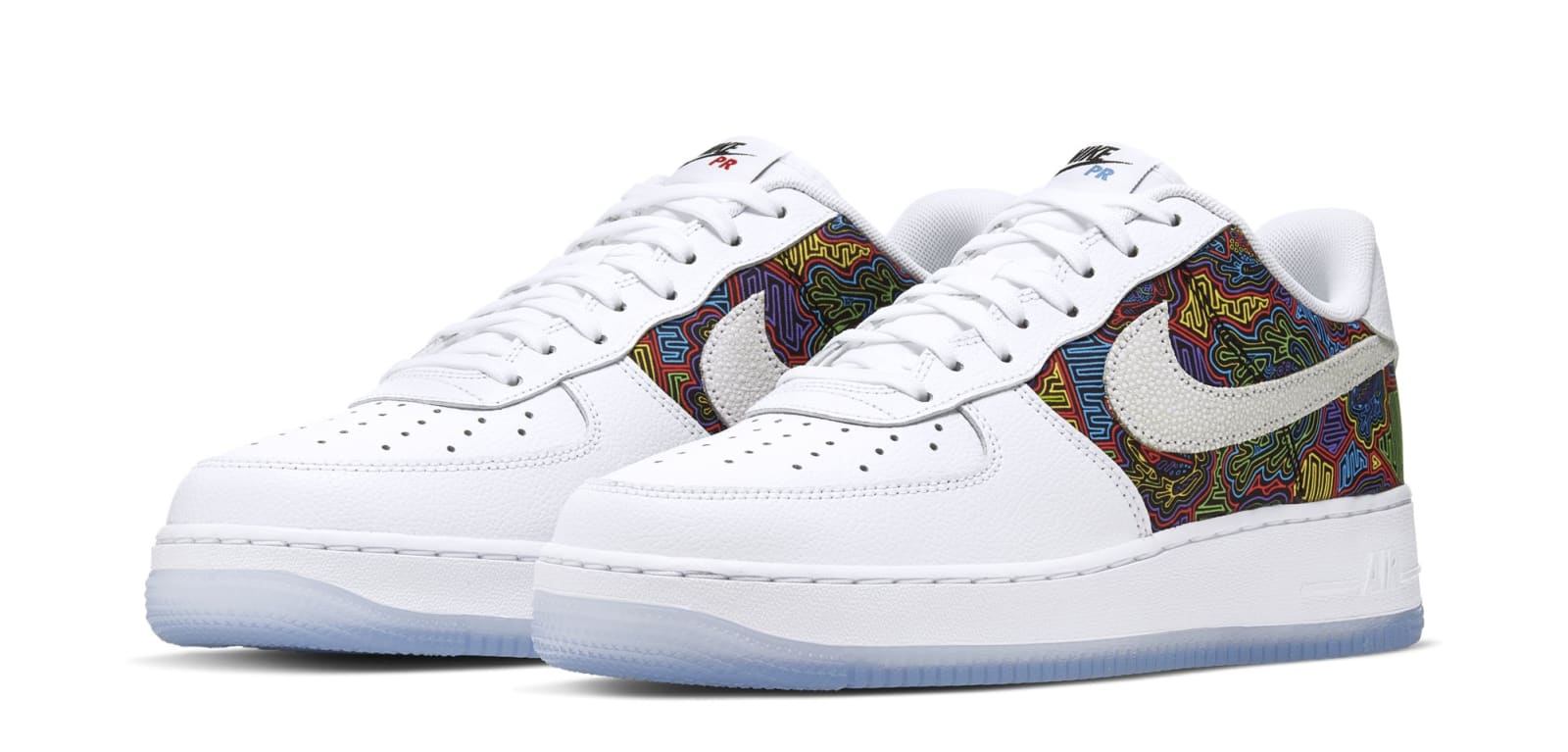 Image Nike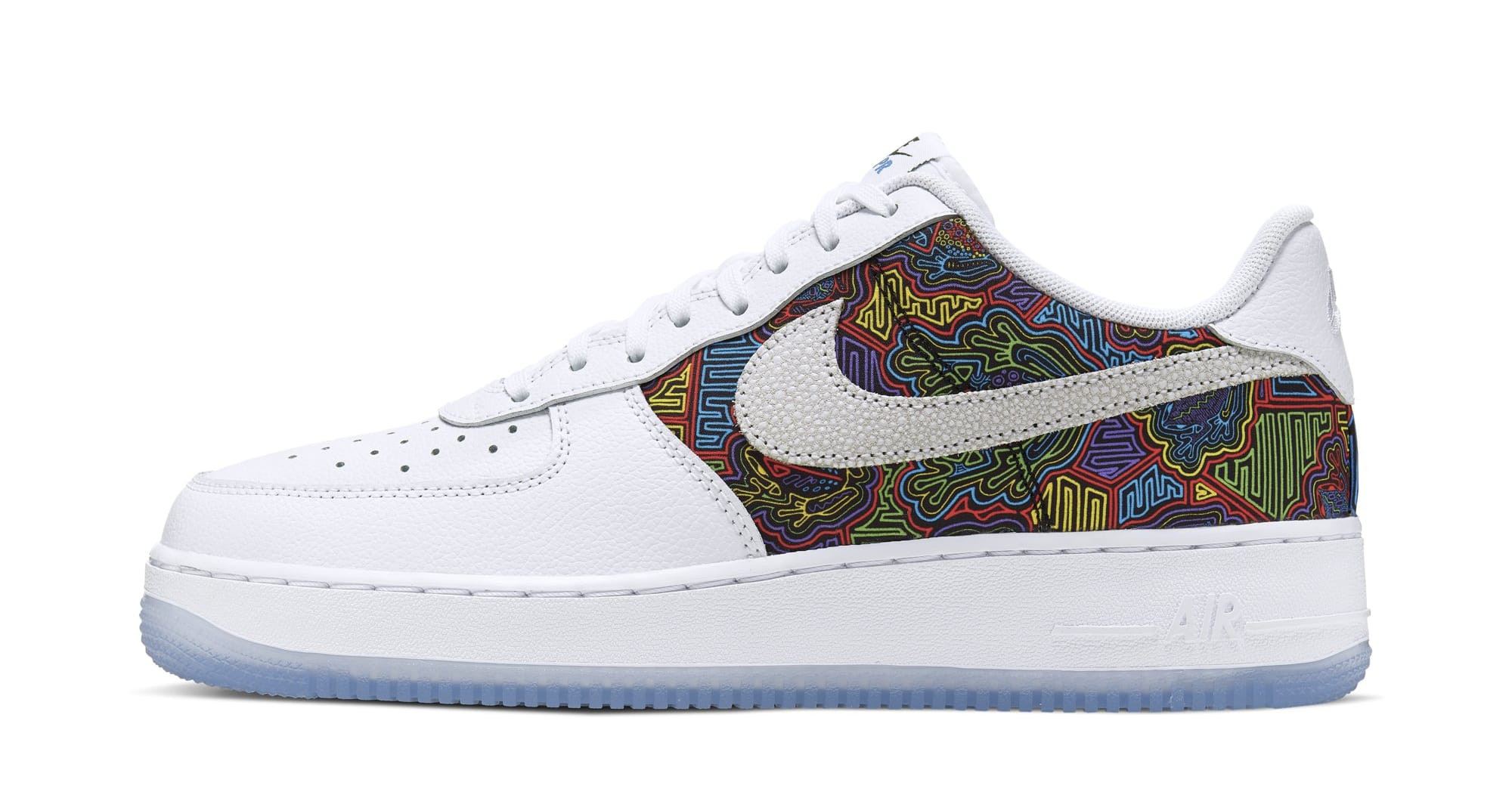 Image Nike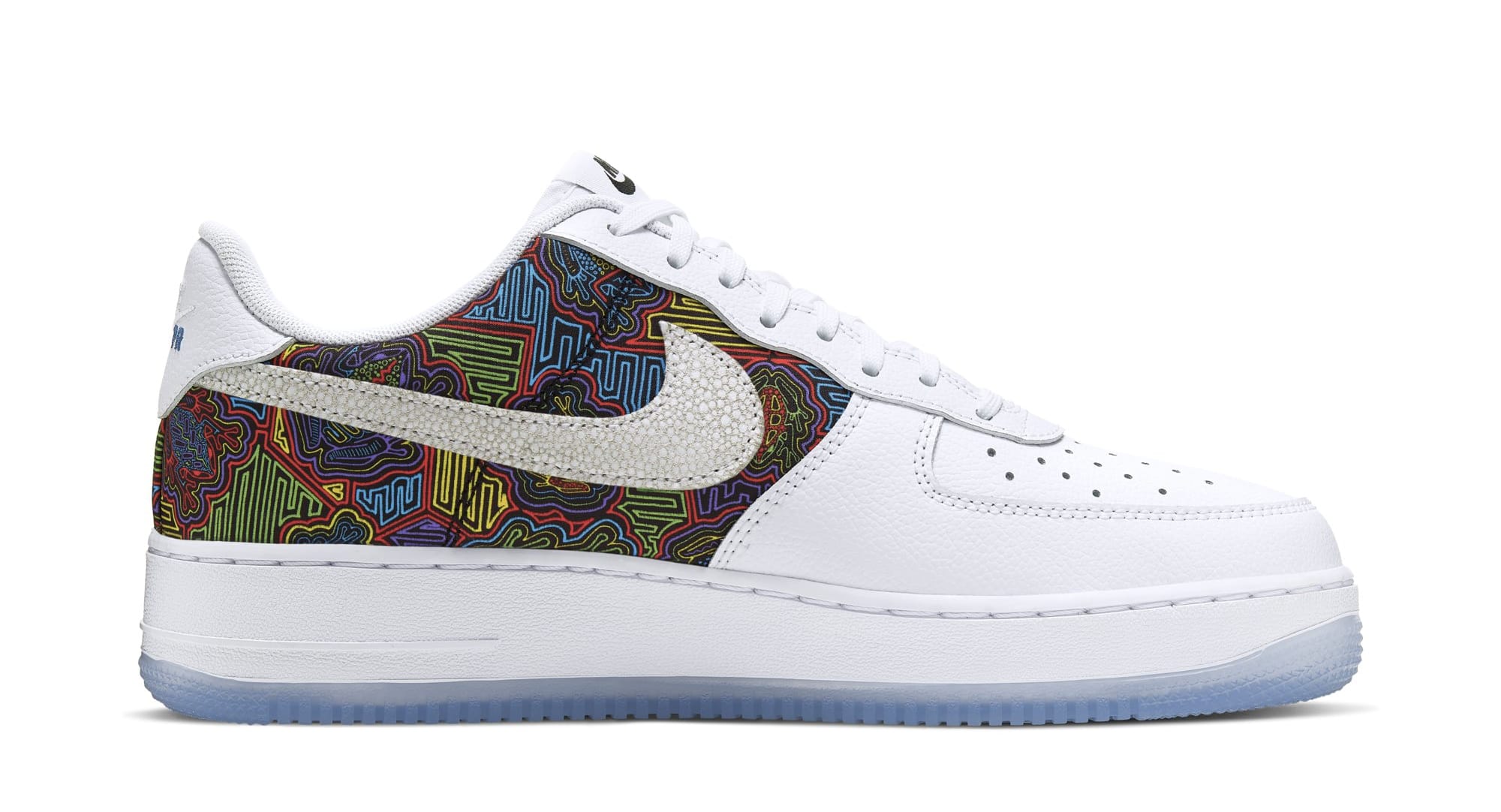 Image Nike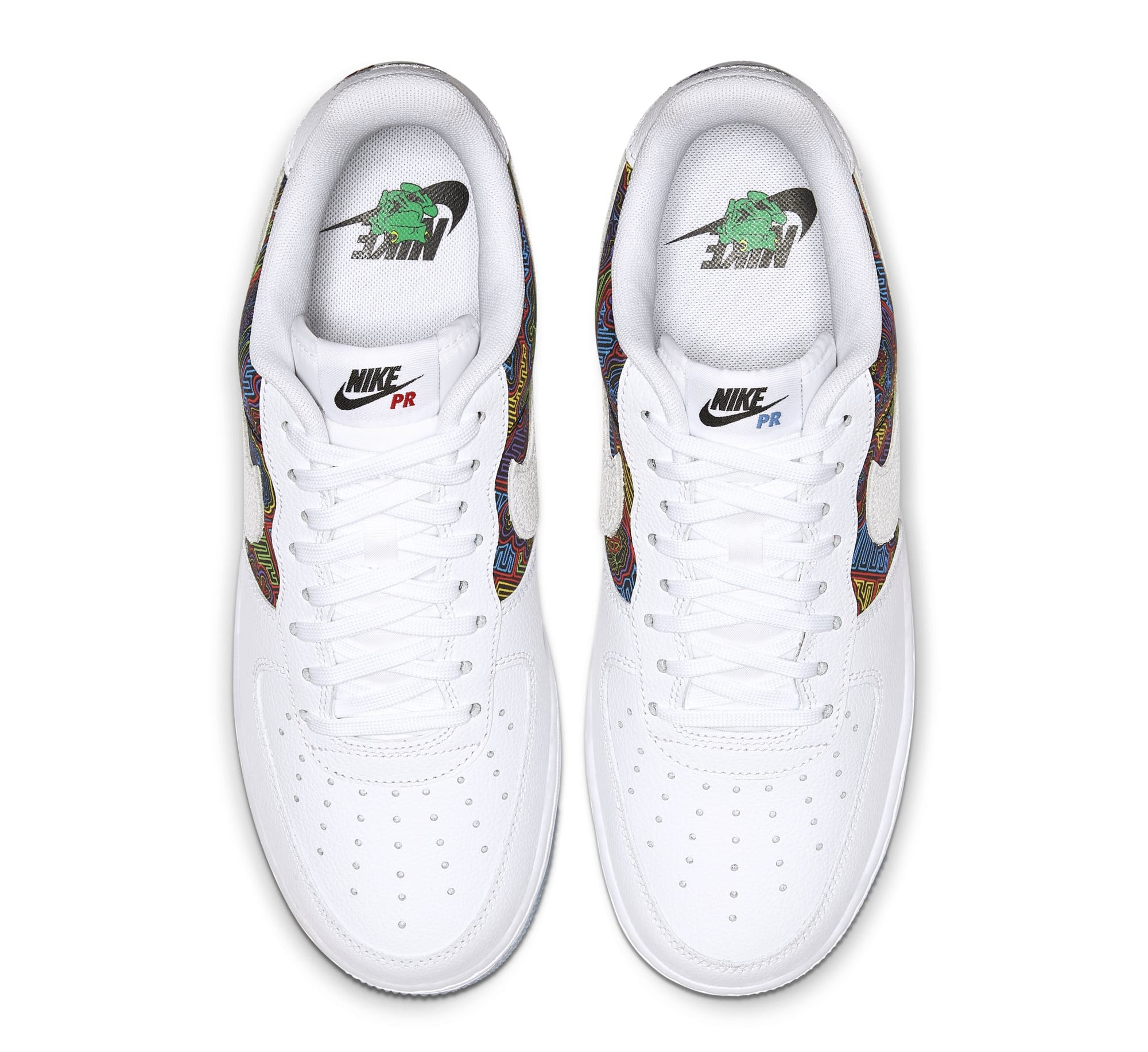 Image Nike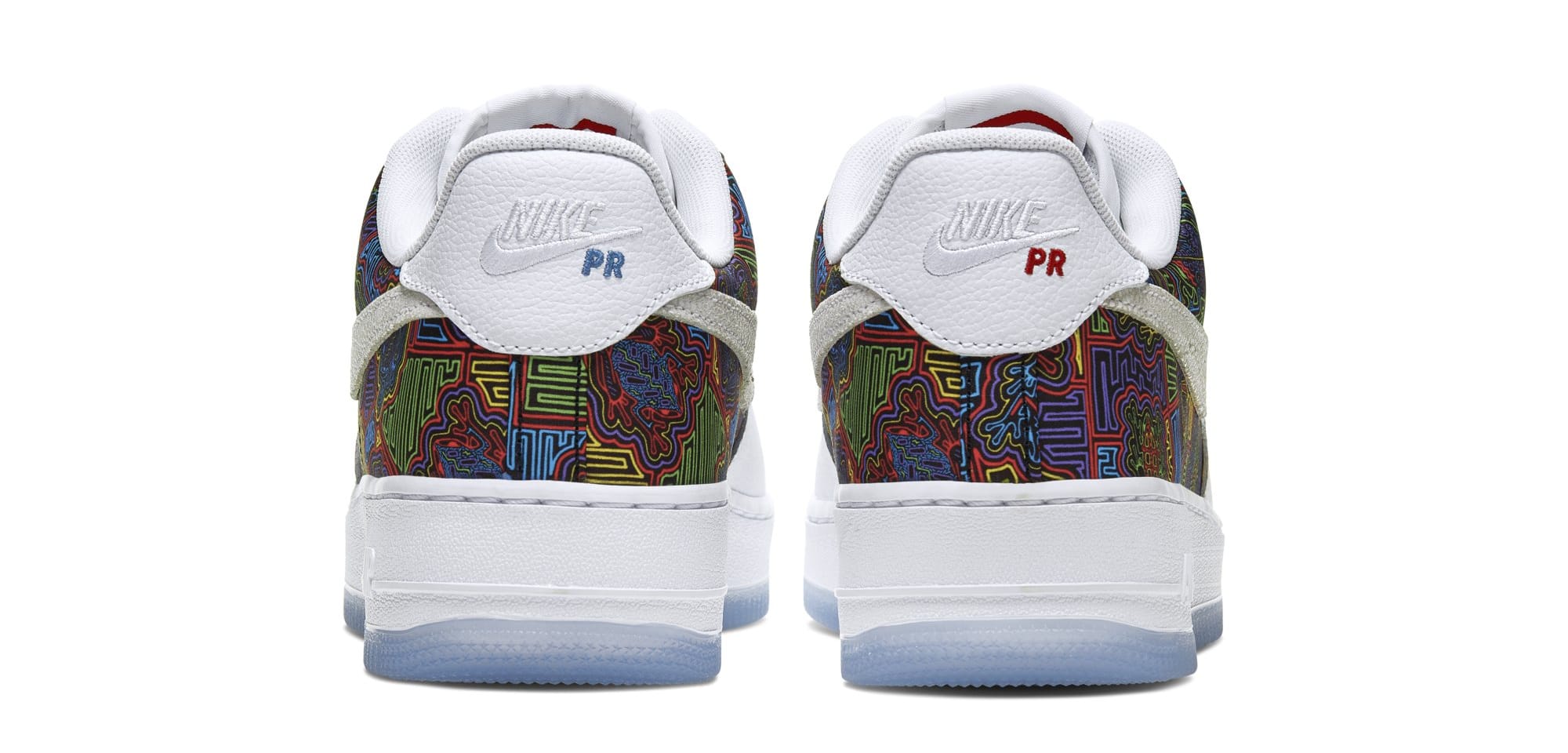 Image Nike
Nike Air Force 1 Low "Ivory Snake" Returns Over 20 Years After Debut

Nike is going deep into their vault for this release.

Back in 1996, Nike dropped an Asia exclusive pair of Nike Air Force 1 Low's dubbed the "Ivory Snake." The pair quickly became one of the most sought after Air Force 1's of all-time and continues to be a shoe that sneakerheads absolutely fawn over. While Nike has left this model alone for over 20 years now, it appears as though it will finally be re-released next week.
This shoe sports some premium materials such as snakeskin on both the Nike swoosh and the back heel. The rest of the shoe has a white leather upper with black and white Nike Air branding on the tongue. It's a fairly simple colorway but will surely be clean for those looking for something interesting to wear this summer.
As of right now, it looks like this shoe will only be released overseas but a stateside drop is still a possibility. For those looking to cop, you will be able to do so on Wednesday, May 22nd for $130 USD. Check out the specific details of the shoe below courtesy of Sole Collector.
Nike Air Force 1 "Ivory Snake"
Release Date: 05/22/19
Color: White/Elemental Gold/Dark Hazel/Black
Style #: AO1635-100
Price: $130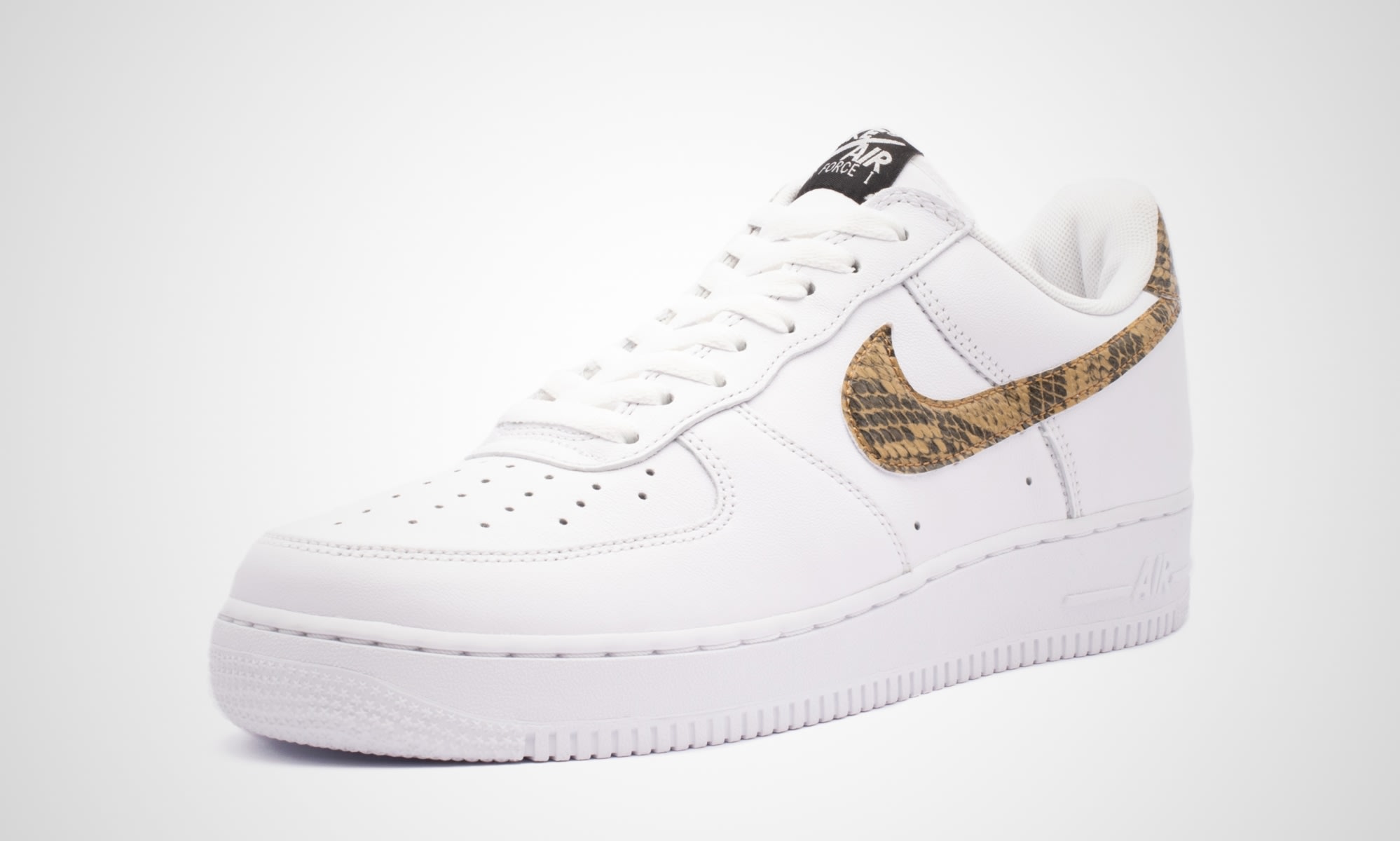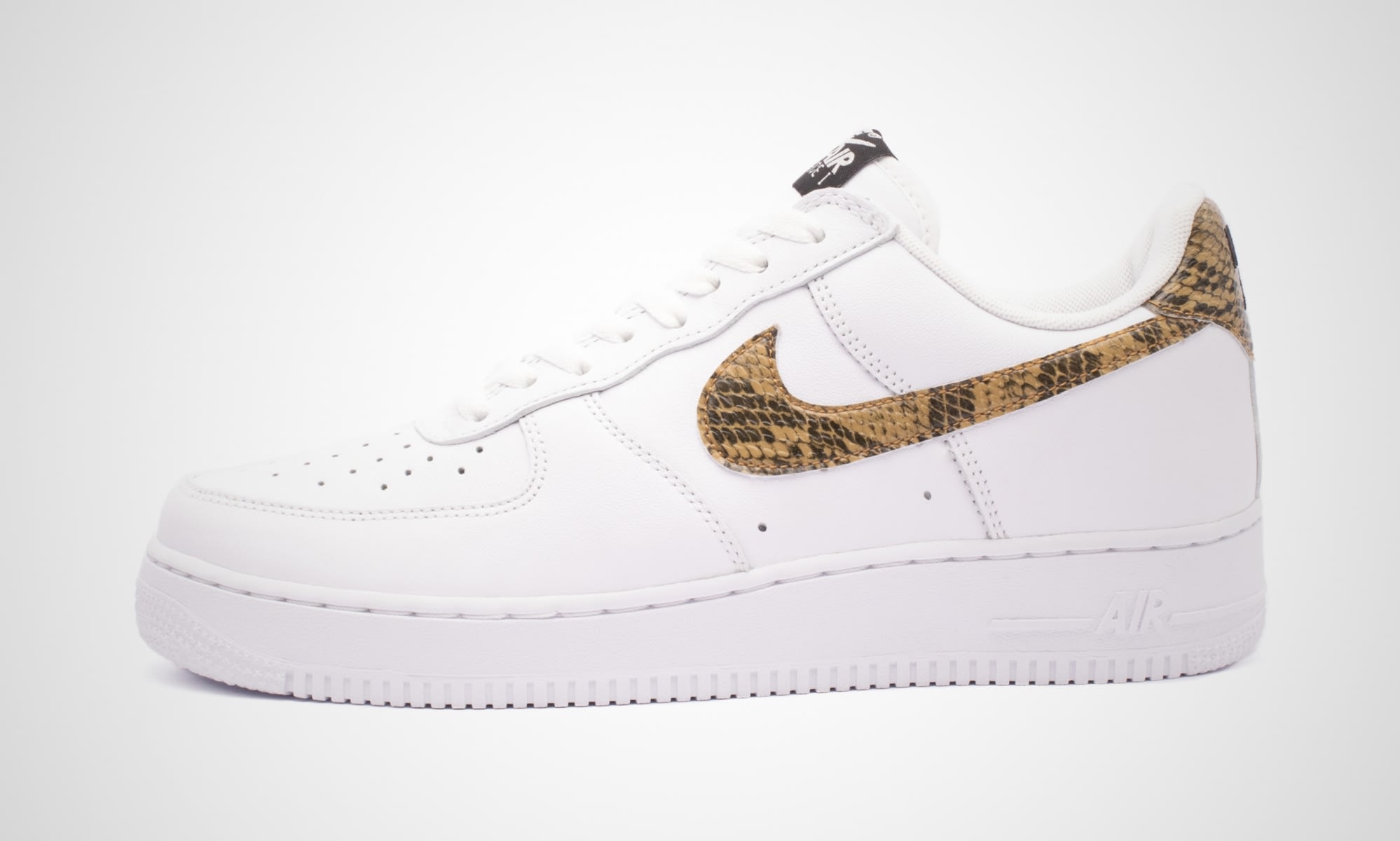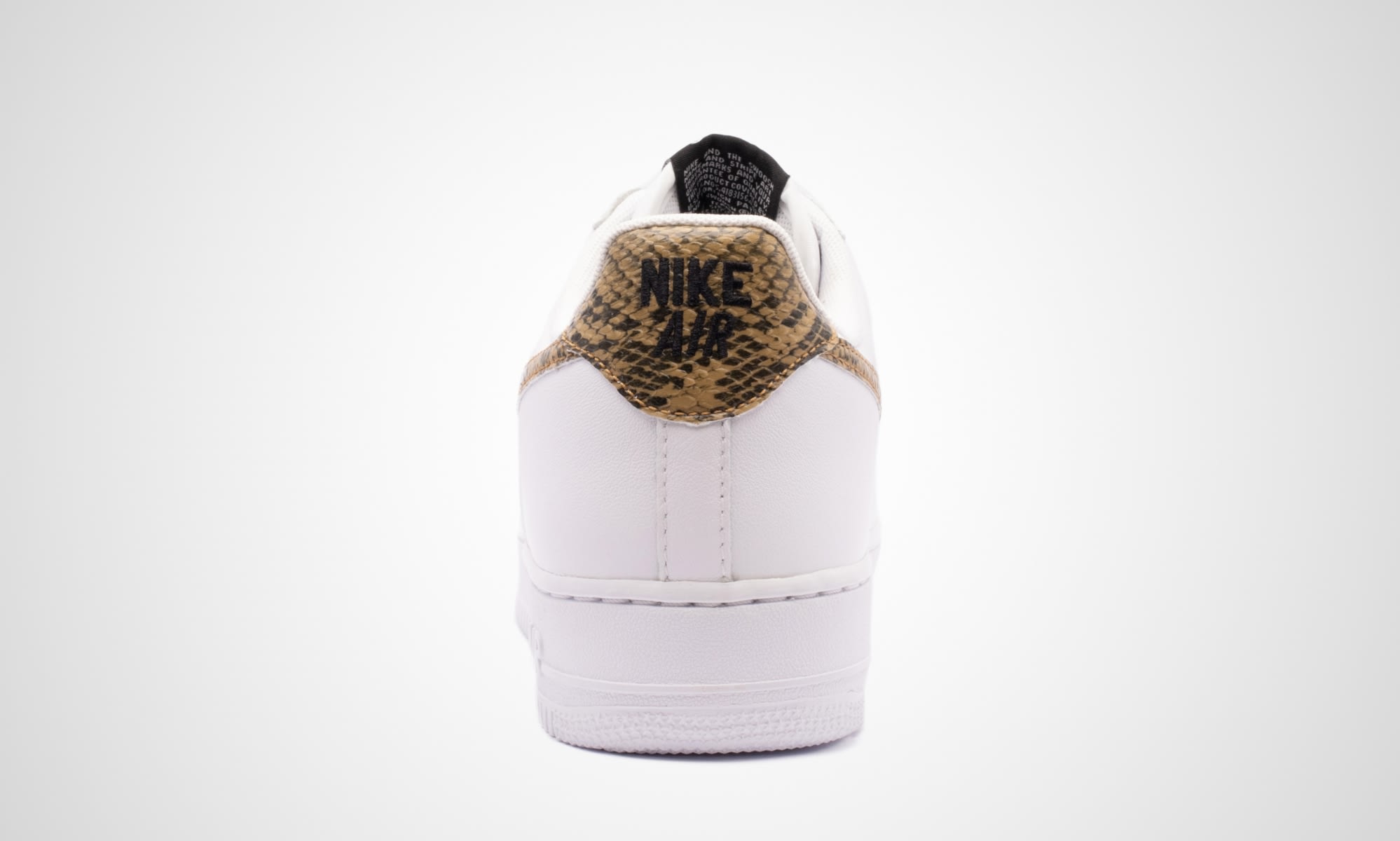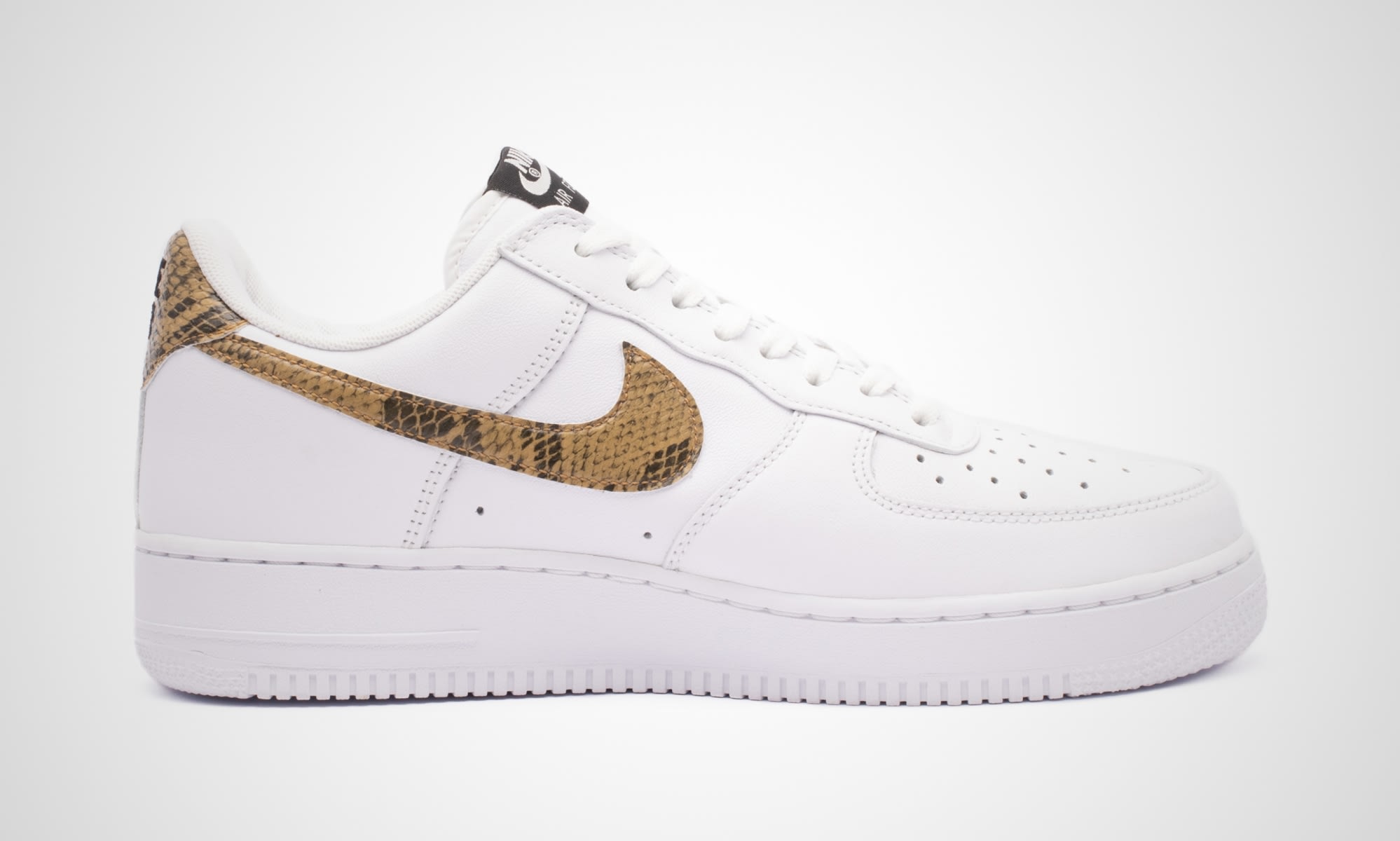 Serena Williams Flexes "Volt" Off White X Nike Air Force 1's At Met Gala

Williams has collaborated with Virgil Abloh of Off-White in the past.

While many are still confused as to what exactly the Met Gala is, there is no denying its impact when it rolls around every year. The fashion statements made by the various celebrities at the event become the subject of memes, ridicule, and even a little bit of adoration. The theme of this year's Met Gala was "Camp" and it was co-chaired by tennis star Serena Williams. Williams has been known as a fashionable athlete in the past and on Monday, that was no different.
Williams showed up to the Red Carpet in a yellow and pink Versace dress alongside her husband Alexis Ohanian Sr. What's even more interesting than the dress though, is the fact that Williams matched her outfit with a pair of Off-White Nike Air Force 1's in the all-yellow "Volt" colorway. The sneaker choice made sense because of just how well the shoes blended in with the dress.
The tennis star's decision to wear Off-White sneakers to the Red Carpet shouldn't come as that much of a shock though. Williams teamed up with Virgil Abloh for some special edition Off-White Nike gear last year that sold out instantly.
Regardless, Abloh must have been proud to see another one of his creations make it to the special event.
Nike & Steve Harrington's Earth Day Collection To Release on April 22nd

The pack will help promote a more sustainable future.

Nike has been known to get involved in good causes before and that's exactly what they're doing with their latest collection which is slated to release next week. For those who don't know, Earth Day is on Monday, Aprill 22nd this year which means there will be a ton of environmental related causes hitting your social media feeds very soon. Meanwhile, Nike has teamed up with Los Angeles artist Steve Harrington – not to be confused with the Stranger Things character of the same name – to create a special three shoe pack that celebrates Earth Day.
The three shoes are Nike classics in the Air Force One, Nike Cortez, and Nike Blazer Low. Each shoe comes in an all-white base, while Harrington's humanoid figure is seen either carrying or hugging the globe. In the Blazer model, the Earth is actually walking with two legs and two arms. The drawings are consistent with Harrington's aesthetics and make these shoes easily recognizable.
If you're looking to cop any of the shoes in the collection, they'll be dropping through Nike.com on Monday, April 22nd, according to Sneaker News. The Air Force 1 will cost $100 USD, the Blazer $80 USD, and the Cortez $90 USD.
Image Nike
Image Nike
Image Nike
Fragment & Clot Rumored To Be Working On Nike Air Force 1 Collab
Two of Nike's biggest collaborators have something huge in the works.
The Nike Air Force 1 Low is probably one of the most iconic shoes to ever release. That may be a hefty statement but considering its history, the Air Force 1 is easily a top 10 silhouette of all time. It was the first sneaker to ever be retroed by Nike back in the 80s and over the last few decades, it has cemented itself in sneaker culture. Considering just how important and influential the shoe is, it's no surprise that Nike would want to team up with some of its favorite collaborators to create some heat.
According to @py_rates, Hiroshi Fujiwara of Fragment and Edison Chen of CLOT will be teaming up with Nike this fall for an epic Air Force 1 Low collaboration. The post on Twitter says this shoe will be coming in black, university red, and white, although there are currently no images of what the shoe might look like. The Twitter leaker also claims that the shoe will be dropping in October of this year for a hefty price of $250 USD. That price tag is more than double the regular version of the Air Force 1 Low.
Stay tuned for updates on this rumored collaboration as we will make sure to provide them as they become available.
Nike Air Force 1 "Only Once" Bedazzles With Gold Speckles

The Nike Air Force 1 is going black and gold.

The Nike Air Force 1 is a special shoe as it was the first ever Nike sneaker to be retroed. More specifically, the low-top version of the classic silhouette is perhaps the most iconic, thanks to its simplicity and dynamic ability to be worn with almost anything. The Beaverton brand has taken full advantage of the Air Force 1 Low's iconic status over the years to deliver some truly out-of-this-world colorways. No matter what your tastes are when it comes to colors, there is probably an Air Force 1 Low out there for you. New colorways continue to get made and with this latest offering, Nike is going all out with the flashy details.
Dubbed "Only Once," this latest version of the Air Force 1 Low features a black leather base, with gold speckles sprinkled throughout the entire upper, including the midsole and the laces. Gold Nike Air Force branding can also be found on a patch centered on the tongue, further reinforcing the black and gold aesthetic this shoe is going for. These are definitely for those who want to be flashy but also remain lowkey.
Image Nike
As reported by Sneaker News, there is no release date for these just yet but you can expect them to drop on Nike.com in the near future for $110 USD.