Odell Beckham Jr has been one of the flashiest players in the NFL over the last few years and this season, he has upped his game with some pretty incredible cleats and some expensive watches. Typically, OBJ can also be seen wearing a chain during his games but curiously, he refused to wear one on Sunday night. The Cleveland Browns and Los Angeles Rams took part in a close game that saw the Rams win, 20-13. Rams cornerback Aqib Talib was mic'd up for the game and based on a certain exchange, we know why OBJ opted out of his necklaces.
If you remember, Talib was caught straight up snatching someone's chain during a game and it's something he had tried to do on numerous occasions. In the clip below, you can see Talib and Odell talking to each other when the latter says "I had to not wear my chain tonight." Talib found that one pretty funny and knew right away what OBJ was referring to.
Talib has made quite a reputation for himself over the years and is one of the hardest corners to play against. The man never backs down from a challenge and he did a good job at quieting OBJ on Sunday.
Perhaps next week, the Browns superstar will find the courage to put his chains back on.
Odell Beckham Jr. Flexes Insane "Galaxy" Nike Foamposite Cleats: Photos

OBJ paid his respects to a legendary shoe.

Odell Beckham Jr. has proven himself to be one of the flashiest players in the league and this has manifested in itself in some insane watches and more importantly, some interesting sneakers. OBJ has built quite the collection over the last few years and he's looking to pay homage to his favorite sneakers during this year's NFL season. For instance, Beckham showed off some "Shattered Backboard" cleats last week against the New York Jets and on Sunday, OBJ had even more fire for sneakerheads to drool over.
If you love sneakers, then you should know all about the "Galaxy" Nike Air Foamposite. The shoe dropped back in 2012 and completely revolutionized the way we look at sneaker releases. To this day, the shoe still manages to be elusive for collectors and Odell turned it into a pair of cleats. The images below, courtesy of Sole Collector, reveal how the upper resembles the look of the Foamposite, while the "Galaxy" graphics are pretty well identical to the original.
These are insanely flashy and OBJ wore them during the warm-up but when it came time for the game, he opted for some orange kicks. Let us know in the comments what you think of his "Galaxy" Foam cleats? Would you cop these?
Image Sneaker News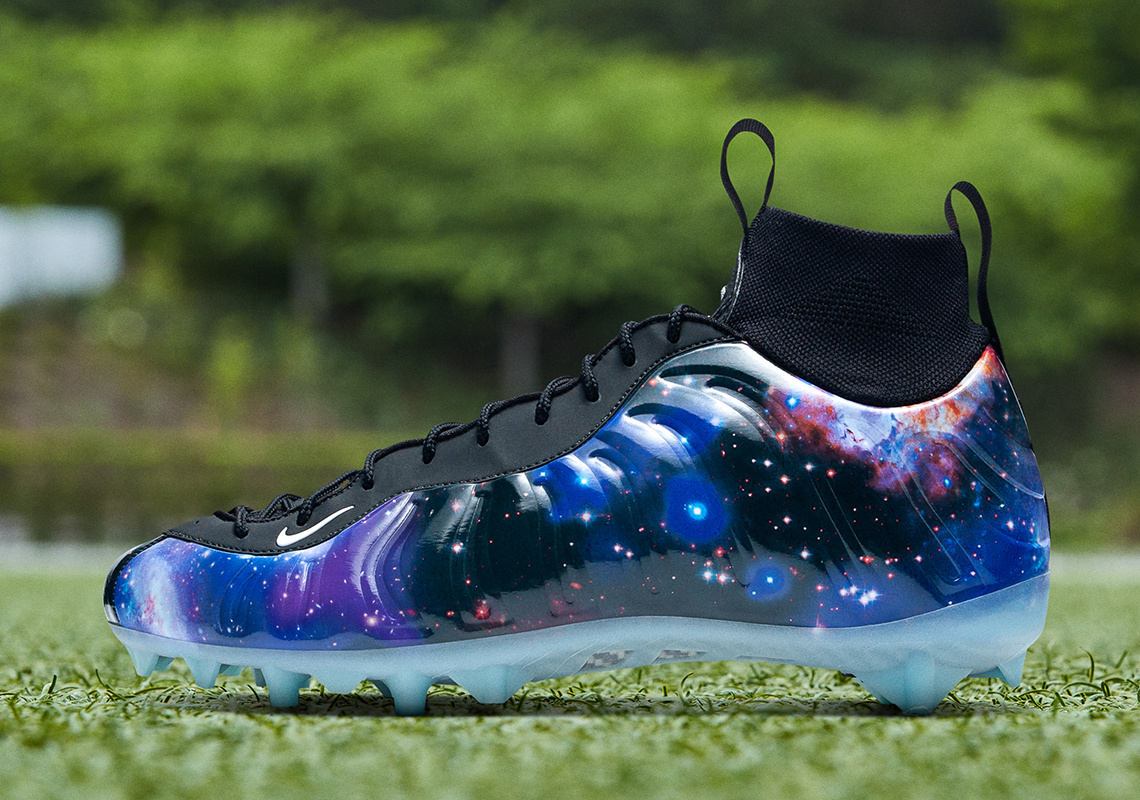 Image Sneaker News
Image Sneaker News
Odell Beckham Jr. Flexes Insane "Shattered Backboard" Cleats On MNF
Odell was doing the most last night.
Cleveland Browns superstar wide receiver Odell Beckham Jr. is known for being a big fan of expensive and flashy things, most notably watches and shoes. During Monday Night Football last night, OBJ took the field with yet another expensive watch, this time costing him a light $2 million. While his watch was the talk of casual football fans, sneakerheads couldn't help but notice what was on his feet. Beckham came through with some fire in both the warmup and the game which furthered his status as one of the league's most prominent sneaker aficionados.
ESPN sneaker reporter Nick DePaula took to Twitter with some detailed images of the cleats which are supposed to represent some of OBJ's favorite sneakers in his collection. For instance, the pre-game cleats are inspired by the "Fresh Prince" Gold Jordan 5, while his in-game cleats look like a pair of Air Jordan 1 "Shattered Backboards."
OBJ's sneakers worked out well for him as he scored an 89-yard touchdown and had 161 yards on six catches. It seems as though OBJ is starting to fit in well with the Browns offense and should be interesting to see how the team progresses throughout the season.
Let us know in the comments below what you think about Beckham's cleat choices.
Odell Beckham Jr. Sports $350K Watch During Browns Debut, Twitter Reacts
OBJ with the flex of the season.
Odell Beckham Jr. has always been a flashy football player on and off the field. The man is a fashion-obsessed individual and in addition to clothes, he also likes to show off his expensive jewelry. While most people would flex their watches before or after a game, Odell would rather show you what he's got on during the proceedings. Yes, that's right. During yesterday's season opener, OBJ took to the field with a $350,000 Richard Mille RM 11-03 McLaren Flyback Chronograph.
This may seem like the ultimate flex and we assure you, it is. Unfortunately, the watch didn't exactly help the Browns win the game as they fell to the Tennessee Titans by a score of 43-13. Brown was able to make a couple of catches in the game but quarterback Baker Mayfield was a disaster as he threw three interceptions. The Browns are already in trouble as the team looks disjointed under their new head coach, all while their divisional rival, the Baltimore Ravens, put up 59 points against the abysmal Miami Dolphins.
Fans took notice to OBJ's timepiece and took to Twitter in droves to comment on his large flex. Needless to say, fans were pretty impressed with how bold Beckham Jr. was and will surely be looking forward to him doing it again next week.
Odell Beckham Jr. Describes Hip Injury In Detail, Still Not 100 Percent

Browns fans should remain cautiously optimistic.

On paper, the Cleveland Browns offense could be one of the best in the league. Baker Mayfield is a gunslinger and at wide receiver, he has two elite targets in Jarvis Landry and Odell Beckham Jr. The latter, OBJ, has been suffering from a minor hip injury all throughout training camp and in a recent scrum with the media, Beckham admitted that he's still having some problems, according to ESPN.
"This is something I've never had to deal with," he explained. "It's like an extremely fast car with like a little alignment or something off. And it's right in the center of what you need. Now, the car can still go, but it's dangerous, you know what I mean? So, it's just something I've been trying to figure out, in and out of rehab every single day. Never really dealt with anything like that."
Mike Ehrmann/Getty Images
The wide receiver said the injury is starting to get better slowly but surely although he's not sure if it will be 100 percent ready to go by the time the season starts on Sunday. He feels as though he'll be able to play but he may not be sprinting like we're accustomed to.
"We have a game Sunday, so it's time to go," Beckham admitted. "I'll be running as fast as I can run. If that's not a hundred [percent], I feel confident in myself that wherever I'm at, I'll be ready to play with wherever I'm at."
If you're a Browns fan, this has got to be a point of concern, especially when you consider everything the team has been through over the last two decades.
Odell Beckham Jr. Defends Sexuality (Again) Over Shirtless Photo

He's repeatedly told the public he's straight, but some people continue to question his sexuality.

An Instagram thirst trap photo went left after Odell Beckham Jr. shared a shirtless image of himself in his Calvin Klein underwear on Monday. The Cleveland Browns wide receiver's photo already made him a target for 50 Cent who quipped that he blocked OBJ by writing, "I told @treysongz don't be doing this sh*t no more and here you go."
All jokes aside, anytime Beckham shares pictures such as these, his sexuality gets called into question by the public. This recent image was no exception as over 21K comments rolled in, many of which suggested, once again, that the NFL star is a homosexual. Beckham jumped into his own comment section to say once and for all, he's a heterosexual man who isn't struggling with his sexuality.
"@everybody lol yallll chilllll mann damnnnn!" OBJ wrote. "It be a lot of y'all sayin sus and alll the other comments that realllly be a direct reflection of who u are! Im straight! Like beyond it. If I sit here and defend myself y'all gon say im tryna defend myself , if I sit there and say nothin yalll gon say 'seee he didn't say anything..'😂😂😂 I'm good wit me. Which is dumb straightttt… Period. lol I don't neeed to say this shxt no mooooo! Half y'all girls in these comments. This the last time ima break this shxt down for y'all. And lastly before I got hit the weight room! Much love to everybody out there! 😂😂😂 Fellas sorry man, gotta get a 💼 for it! #MyCalvins."
In a recent interview with GQ for his cover feature, Beckham made it clear that he doesn't have an issue with the way people choose to live their lives, however, his acceptance of others doesn't mean he's gay. "I have friends who are gay," he said, adding that the rumors about him being homosexual were "almost more funny to me. I almost messed with them even more. It's like when someone gives me an ultimatum, I'm usually always going to go to the opposite way of what you want me to go. So when they would say that, I would almost mess with them even more. I have no problem with anyone's sexual orientation."
50 Cent Blocks Odell Beckham Jr. For His Ridiculous Underwear Thirst Trap

It doesn't take much for 50 Cent to remove you from his socials.

Odell Beckham Jr. is really out here wildin'. It doesn't matter if his latest post has literally nothing to do with 50 Cent — the world-famous rapper stumbled upon it and he decided to ex out OBJ from his entire life. You'll understand why when you see the photo.
The football star took to Instagram today to remind all the ladies of his insane physique. Working every day of his life as a top-tier athlete has got Beckham Jr. in tip-top shape and even though we all know how great he looks, he still felt like getting his DMs a little messy by posing for a picture in his underwear, grabbing his junk and posting the end result to his socials. A few weeks ago, Fif got mad at his buddy Trey Songz for doing something similar. For some reason though, it was okay when he decided to post an image of himself enjoying a bubble bath though.
Once Fif saw the photo of OBJ letting it all go, he needed to make an announcement on his own page, reposting the shot and informing the NFL star that they're no longer friends. "Ok you blocked n***a," said the executive producer of Power. "I told @treysongz don't be doing this shit no more and here you go."
Do you think OBJ just inadvertently added his name to 50 Cent's hit list?
Odell Beckham Jr. Catches First Passes With The Cleveland Browns

Beckham Jr. has officially joined Browns OTAs.

As soon as Odell Beckham Jr. was traded from the New York Giants to the Cleveland Browns, the Browns, who have consistently been a laughing stock, turned into a contender. It's probably too early to declare the Browns as an elite team but with all of the pieces that are currently in place, it's safe to say that they have some pretty high expectations to live up to.
So far, OBJ hasn't hit the field with his Browns teammates but that all changed today when he decided to participate in OTAs "organized team activities). The Pro Bowl wide receiver took to Instagram where he showed off some pictures at Browns training camp. "I ain't no new jack, ain't nobody gon wesley snipe me, it's less than likely, move back…" OBJ wrote as a caption.
It appears as though Beckham is excited and ready to go especially now that he'll be catching passes from Baker Mayfield who had a much better season last year than Eli Manning. Mayfield will be heading into his sophomore season and he will be another player with a ton of expectations.
Last season, the Browns finished with a record of 7-8-1 and are seen as a team that can easily make the playoffs this year.
Odell Beckham Jr & Jarvis Landry Star In Nike Ad Campaign

Odell and Landry have been friends since childhood.

Nike's "Crazy" ad campaign has seen some pretty iconic commercials enter the fold and now the Beaverton brand is looking to add to that with this latest video featuring Odell Beckham Jr. and Jarvis Landry. To provide a bit of background beforehand, Landry and Beckham Jr. have been friends since they were little kids. The two are both wide receivers who played against each other in high school but reunited to play with each other at LSU. They both got drafted in 2014 and now, they will be playing on the same team in Cleveland. The entire commercial is based on this premise.
Throughout the video, we see a side by side split of Beckham Jr. and Landry as they make their way up the ranks and eventually end up on the same team together.
Beckham Jr was originally drafted by the New York Giants, while Landry was taken by the Miami Dolphins. Last season, Landry ended up being shipped off to Cleveland and pretty well a year later, the same thing happened to OBJ.
Both wide receivers are expected to form the best receiver duo in the NFL. With quarterback Baker Mayfield at the helm, perhaps we will even see the Browns back in the postseason for the first time in two decades.
Odell Beckham Jr. Unveils Nike Air Max 720 Collaboration

OBJ is known for his work with the Beaverton brand.

Odell Beckham Jr. is fresh off his trade to the Cleveland Browns where he is set to play with quarterback Baker Mayfield. The two are poised to become an incredible duo and fans are extremely excited. Speaking of duos, OBJ and Nike are pretty dynamic as well. Both parties have linked up in the past for some heat and now it appears as though the wide receiver has his sights set on the Nike Air Max 720. The Air Max 720 is Nike's latest addition to the Air Max roster and has a huge air bubble that wraps around the shoe. It's a shoe with a ton of personality so it only makes sense that OBJ would be interested in it.
On his Instagram story, OBJ quickly showed off what the shoe will look like. The sneaker is a mixture of materials and there are a ton of colors throughout. Knit, mesh, and leather seem to make up this Frankenstein of a sneaker that will have many foaming at the mouth and just as many shaking their heads.
There are no release details for this shoe but considering it has packaging and everything, there is a good chance these could see the light of day.