Adrien Broner is Now Begging For Money On Social Media
Adrien Broner got $2.5 million to lose to Manny Pacquiao almost exactly a year ago. Even before that, he was the type to stunt all of his cash on the gram, even flushing some of his money down the toilet for the clout of it all
His life of excess has caught up with him and today the 30-year old jumped on social and played the part of a crackhead by begging his fans for the paltry sum of ten dollars.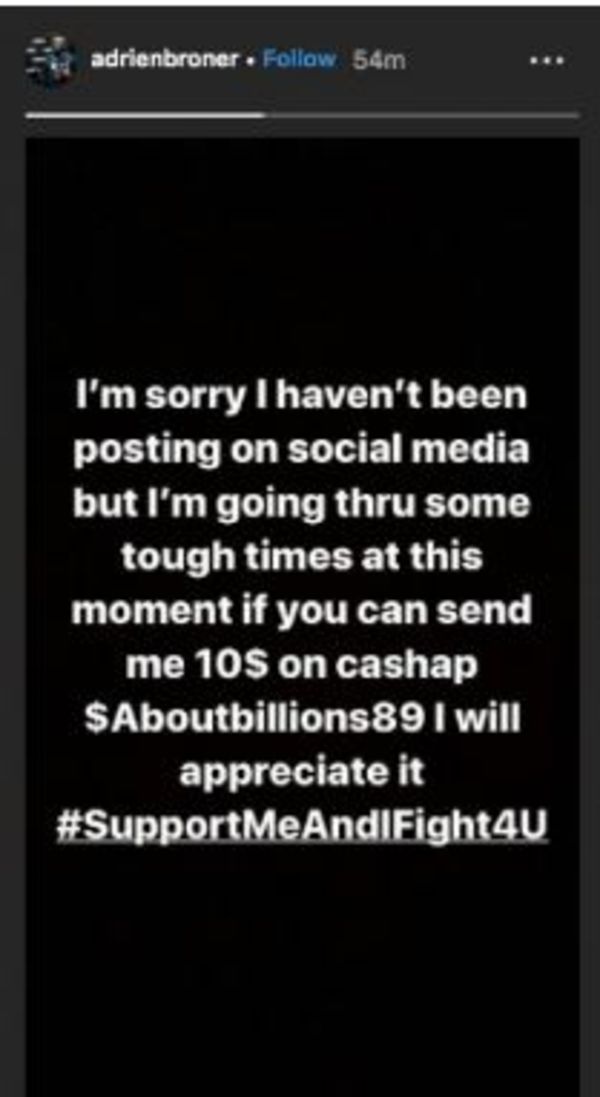 "I'm sorry I haven't been posting on social media but I'm going thru some tough times at this moment if you can send me $10 on cash app I'll appreciate it #SupportMeAndIFight4U," he typed.
Broner has been having a tough time lately. Earlier this month he had to apologize after sliding into Bhad Bhabie's DMs and then getting called out by the 16-year old, who fashions herself somewhat of a Chris Hansen-type.
Here's a seven-year-old video of Broner giving bills greater than tens the old flush:
50 Cent's "Son" Is Being Bullied At School; Mom Is Suing for Millions
In 2016, 50 Cent met a boy named Dan Fraser and immediately took a shine to him.
He started to refer to Dan as his "son" on Instagram. It appeared he was doing this to taunt his estranged biological son Marquise. It apparently had negative effects on Dan as well. According to the boy's mom, bullies have targetted Dan at his Brooklyn charter school because of the 14-year old's ties to Fif.
"It caused a big uproar in the school," Dan's mom, Myasia Dickerson, said. "The kids started to follow my son around, tried to put him on Snapchat, tried to take videos of him. They were following him to the train station."
Dickerson says things got really bad last month, and he was viciously attacked in the school stairwell.
"He was attacked from behind as he tried to walk away. He was punched in the head and then the student proceeded to fight him and then he slammed my son's head onto the ground."
The boy's mom said he tried to take refuge in a classroom before the assault but was turned away because he wasn't in the class and it was in session.
Now she's suing the Department of Education for $5.5 million in damages.
"Parents have the right to expect a safe environment when they send their child to school," said the family's attorney, Sanford Rubenstein. "When school personnel fail to provide that, especially when they are on notice of a problem, the school is liable to that child for damages."
50 hasn't commented. But we think he'd be proud of the lawsuit.
Here's video of Fif teaching Dan to box:
The Lead Single from No Mana's Just-Announced Debut Album Is Already Here
The road to a debut album is often a long one. There's so much that goes behind the scenes for producers before they're ready to release a truly career-shifting body of work, whether it be old aliases, years of watching YouTube videos, tens of thousands of dollars spent on hardware, software, branding, and more. But at the same time, there's also no better feeling when everything finally starts to fall into place.
No Mana recently revealed his debut album is coming in 2020, and today he released the first single, "Stranger" with Jantine. It's a beautiful progressive house that builds on all the elements that No Mana has established over the past five years while still presenting a sort of open ended atmosphere. The wonderful vocals from Jantine naturally evolve into a deep, soulful, infectious drop.
There's no date set yet for the album release, but with the first single out now, we'll probably hear it sometime around summer or earlier. Check back for more updates, but listen to "Strangers" from No Mana right now below.