Lil Nas X Just Bought Billy Ray Cyrus A Maserati
Lil Nas X's country trap track "Old Town Road" has been number one for seven weeks.
A lot of that has to do with his feature, Billy Ray Cyrus, who blessed the cut with his star-power and a pretty nifty verse.
At least Lil Nas X thinks so. To reward the 57-year old country star for the boost, X used Postmates to gift Billy Ray the Maserati that shows up in his bars and in "Old Town Road"'s video.
Next stop, Rodeo Drive.
Post Malone Hits Walmart Fully Strapped
Post Malone is definitely taking advantage of the open carry laws in Texas and specifically Walmart.
A picture has surfaced online of Post Malone standing with a Walmart employee, with a pistol holstered on his hip.
We can't blame him, he has made a ton in the music industry, and just got into the weed business, so it's only smart to protect himself.
Just a few months ago, the rapper DaBaby killed a man in a Walmart and got off because he was acting in self-defense.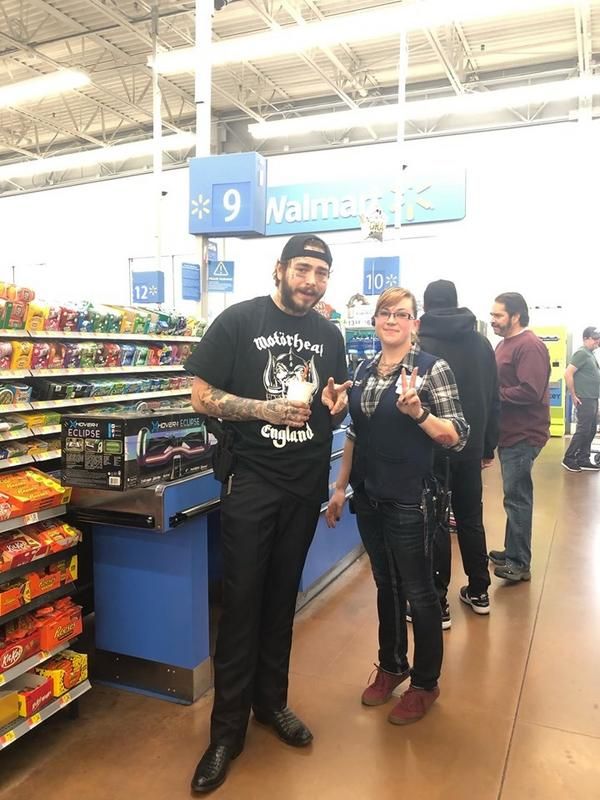 Do you think Post Malone is smart for walking around in public strapped up?
Report: DaBaby Entourage Beating Victim In A Coma
Earlier this weekend, DaBaby's crew beat the crap out of Dan Trag, a fan who got too close when seeking an autograph from Baby at Centro Nightclub in Lawrence, MA.
The fan left on a stretcher and DaBaby canceled the show. (But kept his money.)
According to the victim's brother, Trag is now in a coma with "significant brain and neck swelling."
Here is video of the beatdown:
The Glitch Mob, Seven Lions, NGHTMRE & SLANDER Reveal New Mega-Tour At EDC
When NGHTMRE, Slander, Seven Lions and The Glitch Mob all changed their profile photos to the same image this week, we knew they were up to something. Now we know exactly what that something is.
Some fans immediately jumped to the possibility of a megacollab (we're still hoping). However, this new image proves otherwise as these powerhouse artists present The Alchemy Tour. With a nod to earth, wind, fire and water, these expert producers will undoubtedly put on quite the show.
Get ready for a night of bass and melodic atmospheres, coming to a city near you. This particular poster teases a Northern California date, but we're hoping for an official announcement soon.
We'll be sure to let you know when they release their full list of tour dates. Stay tuned.
The Alchemy Tour
THEY'RE TOURING TOGETHER?!?!?! pic.twitter.com/jak3RYz87W

— Tam 🌻 (@tammmss) May 17, 2019